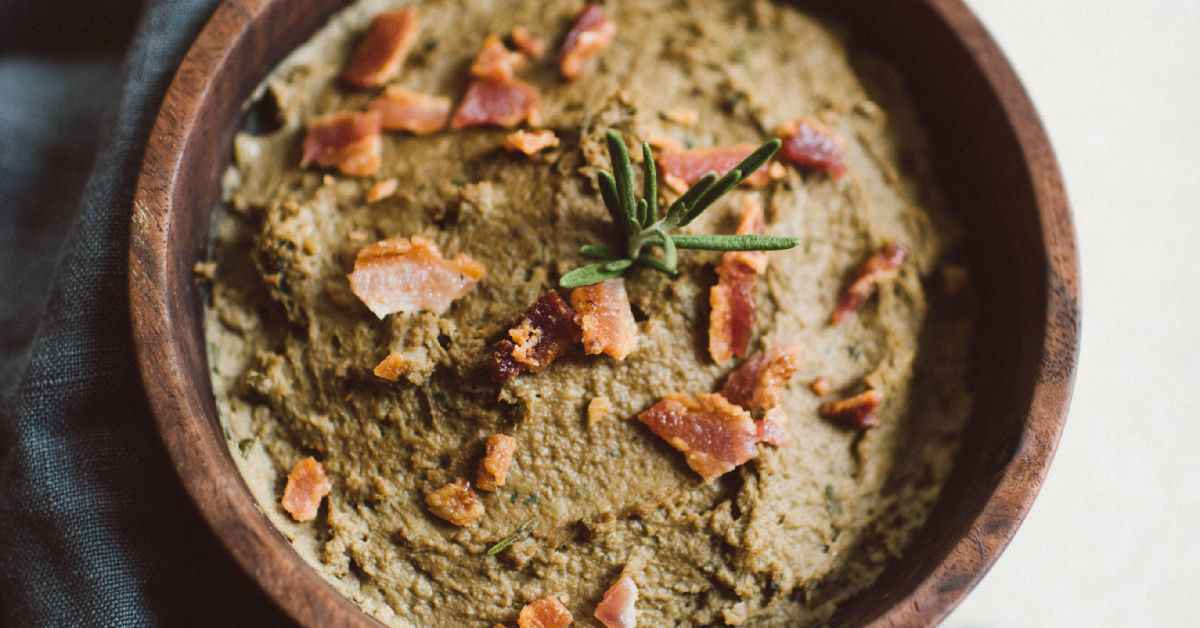 Beef liver is truly one of the top superfoods but few people want to eat it due to its strong flavor and general squeamishness over eating organs. But pair it with some bacon and strong herbs and turn it into a rich pâté, and you've turned it into something truly cravable! This recipe is a sneak-preview from a new AIP cookbook from an AIP pioneer and my friend, Mickey Trescott, who you probably already know as one of the voices behind the blog Autoimmune Wellness and podcast of the same name.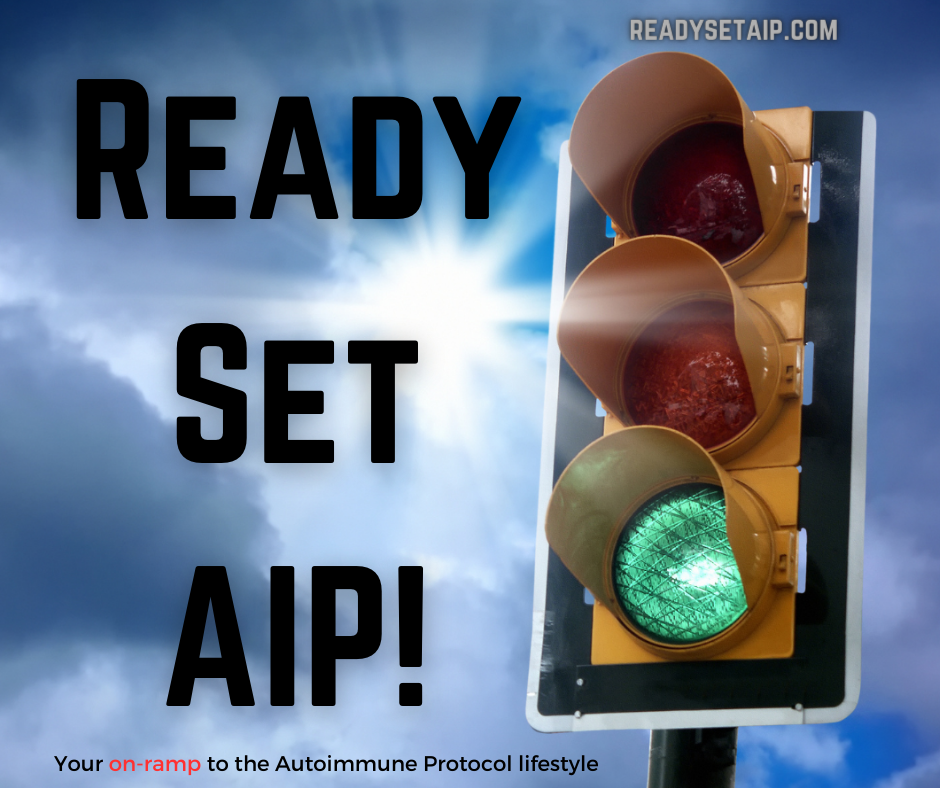 Why eat beef liver on AIP?
Nutrient density, period.
As Mickey explains in the pages of her beautiful book, The Nutrient-Dense Kitchen, the "nutrient density" of a food refers to the micronutrient amounts a food contains relative to the energy it provides. In our weight-obsessed diet culture, many people focus on the energy density of a food (how many calories it providers per serving), or how much of the macronutrients (fat, protein, or carbohydrate) it contains. But eating with a mind toward nutrient density means prioritizing the foods that provide the most "bang for your buck."
And beef liver is one of those foods! It provides the highest level of preformed vitaman A (retinol) of any other food. It is also an excellent source of the B vitamins (especially B12), as well as minerals like iron, copper, and the fat-soluble vitamin D.
When Mickey gave me permission to share a recipe from her new book with you, I jumped at the chance to post this one for bacon beef liver pâté with rosemary and thyme because not for those reasons though, but because it is delicious! I don't care what you feel about liver right now… just put aside those thoughts and give this recipe a try. It converted me to a liver lover and it just might do the same for you!
But first, I need to tell you just a few things about this incredible new cookbook…
What's so great about The Nutrient-Dense Kitchen?
Where do I begin?! This book is everything I could ask for when it comes to providing what my clients need, especially those who have autoimmune diseases because all 125 recipes are compliant with the autoimmune protocol (AIP) and it also includes comprehensive lists of foods to include and avoid and how to reintroduce foods. But this book is so much more than just another AIP cookbook and should be embraced and enjoyed by people following any number of dietary approaches, including ketogenic, low-carbohydrate, or simply "clean" eating plans.
You'll find detailed information on how to eat like a "nutrivore" with handy nutrient tables and charts to help you prioritize foods. If you are looking for meal plans and shopping lists, you will be pleased to find five different ones in the book, including budget and two-person options. If you are crunched for time, you'll discover many recipes that take 45 minutes or less and/or can be made in one pot. And if you need to modify your approach to be low-FODMAP or coconut-free, directions are given on the pages of each recipe for doing that.
Above all, The Nutrient-Dense Kitchen is perfect for anyone looking for a practical and approachable resource for the autoimmune protocol that places nutrient density at its core. Get your copy today!
Now, on to the yumminess that is this pâté recipe!
AIP Bacon Beef Liver Pâté Recipe
Print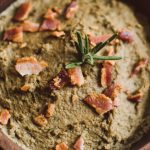 Bacon Beef Liver Pâté with Rosemary and Thyme from The Nutrient-Dense Kitchen
---
Author:

Total Time:

40 mins

Yield:

2 cups

1

x
Description
Truly one of the best superfoods, beef liver provides the highest level of preformed Vitamin A of any other food. In addition, it is an excellent source of the B vitamins (especially B12), as well as minerals like iron, copper, and the fat-soluble vitamin D. Many of these nutrients are notoriously difficult to obtain in our typical diets, so including even a small dose of beef liver regularly in the diet is sure to make a big impact.
---
4

slices thick cut, uncured bacon

1

small onion, minced

4

cloves garlic, minced

1

pound grass-fed beef liver, rinsed, dried, and sliced into

2

– to 3- inch pieces

2 tablespoons

minced fresh rosemary

2 tablespoons

minced fresh thyme

1/3 cup

coconut oil

1/2 teaspoon

sea salt
Fresh herbs, for garnish
Slices of fresh carrot or cucumber, for serving
---
Instructions
Cook the bacon slices in a cast-iron skillet, flipping as needed until they are crispy. Transfer to a paper towel-lined plate to cool, keeping the fat in the pan.
Add the onion and cook for about 5 minutes, stirring, on medium heat. Add the garlic and cook for a minute more. Clear a space in the center of the skillet by moving the onions and garlic to the outside of the pan, adding the liver slices to the center one by one, making sure they lie flat. Sprinkle with the rosemary and thyme. Cook for 2 to 5 minutes per side, or until the liver is no longer pink in the center. Sent aside to cool for a few minutes.
Transfer the mixture to a high-powered blender or food processor, add the coconut oil and sea salt. process until a thick paste forms.
Put the pâté into a medium bowl. Chop the bacon and fold it into the pâté.
If you are going to serve the pâté immediately, transfer some into a small serving bowl, garnish with the fresh herbs, and serve the vegetables alongside. If you are making the pâté for later, transfer it to a storage container and refrigerate, it will keep for up to 1 week.
Notes
MODIFICATIONS: For a low-FODMAP version, replace the onions and garlic with diced celery. For a coconut-free version, use olive oil instead of the coconut oil.
Prep Time:

20 mins

Cook Time:

20 mins

Category:

Appetizer
Did you enjoy this recipe? Want to be the first to hear about new AIP-friendly, gluten-free, Paleo recipes? Please sign up for my weekly email newsletter to stay in the loop!