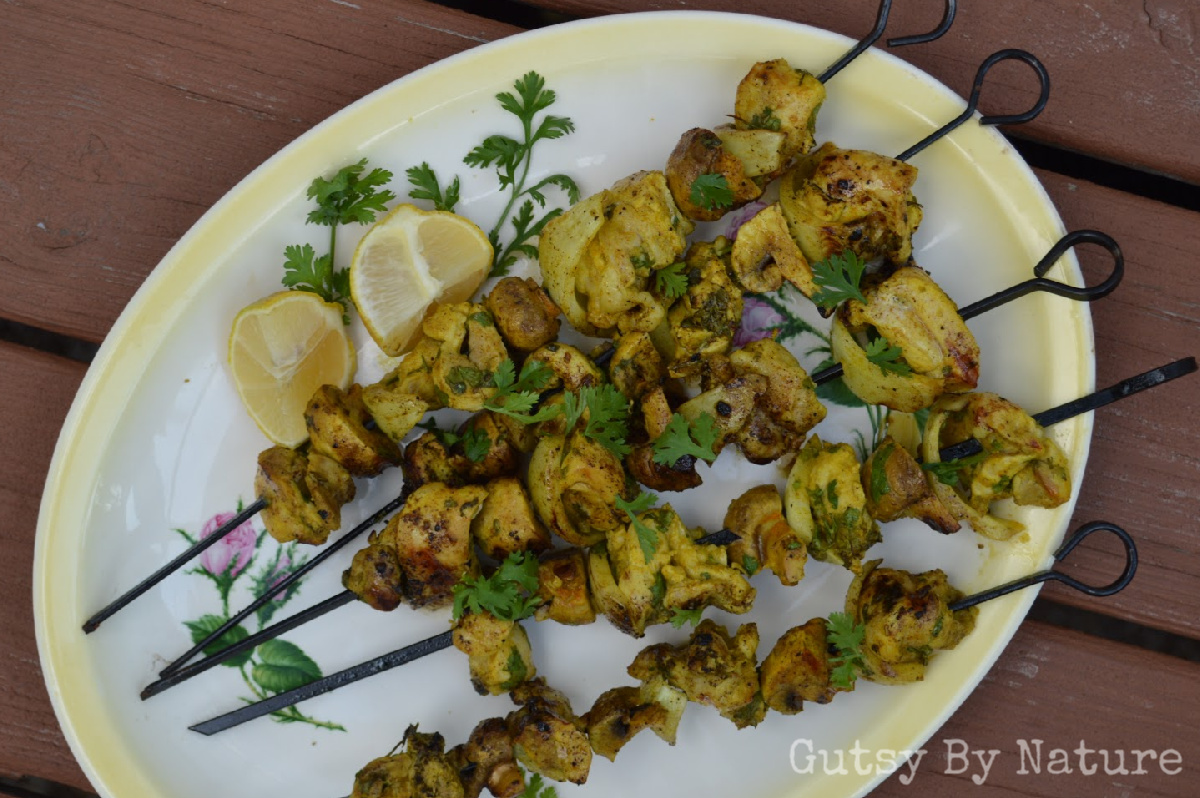 There are so many compelling reason to eat with the seasons, but at the top of the list for me is flavor! These mushroom and chicken kebabs are my contribution to an exciting new collaborative AIP cookbook that I know you are going to love, whether you are a summer baby like me who longs for the heat of summer days that make grilling kebabs an appealing activity or a cool weather lover who appreciates the way shorter days usher in a whole new season of produce.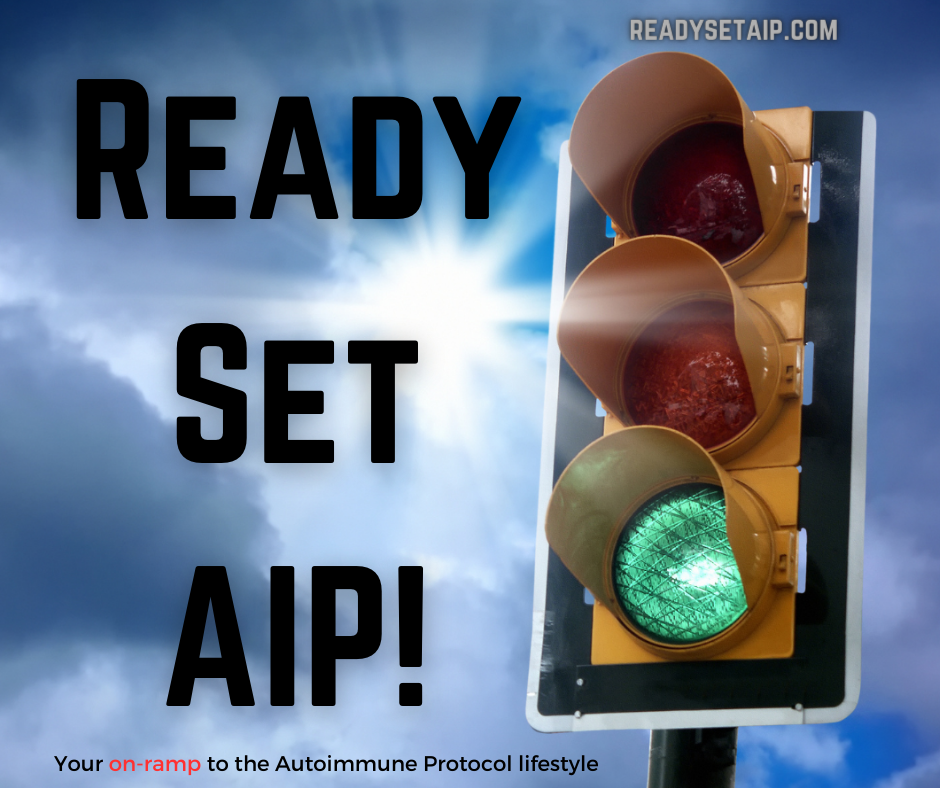 Before I share the recipe, please allow me to tell you a little about the project for which this recipe was created…
AIP By Season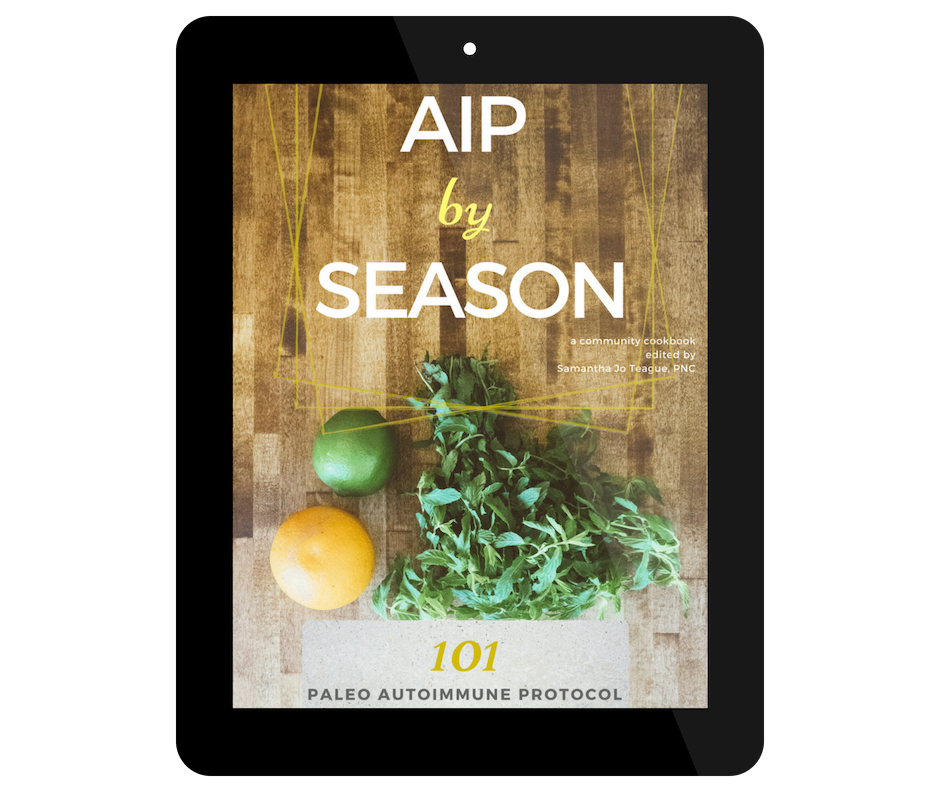 I'm sure I don't need to tell you that the AIP blogging community has grown much larger since the day I started this blog back in 2013. I haven't been surprised to see this growth since demand for good AIP recipes has increased as the protocol has gained more acceptance as an effective tool for managing autoimmune conditions, but I continue to be amazed at the incredible support and camaraderie the bloggers have for each other. Instead of competing with each other for audience or attention, we've discovered that working together serves us all… and one obvious way you see that is in our tradition of producing community cookbooks periodically.
The first two cookbooks (85 Amazing AIP Breakfasts and The Paleo AIP Instant Pot Cookbook) were edited by Eileen Laird of the blog Phoenix Helix, who set a high bar for success! Then, she passed the baton to me and I lent my organizational skills to Freezer Cooking for the Paleo AIP and the time saving focused book, 30 Minute Meals for the Paleo AIP. Last year, a fifth volume was added to this collection with The Global Paleo AIP Kitchen, again featuring many of the same bloggers and edited by blogger Bethany Darwin.
At this point one might think that we've run out of ideas, but in fact nothing could be further from the truth! AIP bloggers are inspired by many things… including the changing of the seasons, and that is the theme of this newest collaborative cookbook, AIP By Season.
I contributed a total of four recipes to the book, one for each season, and joined 21 other bloggers who did the same. The final product is edited and beautifully illustrated by Samantha Teague, who you probably know from the blog The Unskilled Cavewoman.
I know I speak for all of my blogging friends when I tell you that projects like this are a labor of love for us. We put a lot of effort into them and ask you to consider supporting us with a purchase in return. Much of the work we do is freely shared on our blogs and we are happy to do it, but we also all have expenses as well and sales of such ebooks helps us defray them so we can keep producing great recipes and other content. So, I sincerely hope you will take a few minutes and use the link below to learn more about this book, and/or the links of the previous projects above, and see if this sounds like it would be of benefit to you.
TIME SENSITIVE! To celebrate the launch of this new project, we are giving away a collection of prizes worth over $600, all donated by your favorite AIP-friendly businesses. If you purchase during this initial launch week, you'll also get some exclusive discounts for products you may be about to buy anyway! Just a little added incentive for you to head over to the home base for AIP By Season today and take a closer look!
Now, let me show you a tiny taste of what will be found inside the virtual covers of this ebook with a sneak peak recipe…
Mushroom & Chicken Kebabs Recipe
Print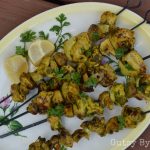 Chicken & Mushroom Kebabs – from AIP By Seasons
---
Author:

Total Time:

1 hour 20 mins

Yield:

4

servings

1

x
Description
Autumn is the perfect time for grilling outside in hotter climates, but if it is too cool where you live to do so, feel free to make these under the broiler in your oven.
---
¼ cup

olive oil
Juice from

½

lemon

2

garlic cloves, minced

½ teaspoon

turmeric

¼ cup

cilantro, chopped – plus more for garnish

1 teaspoon

salt

1

pound chicken thighs, cut into bite sized chunks

1

small onion, cut into quarters then the layers separated into individual pieces

4 ounces

button mushrooms, cut into halves or quarters if they are large in size
---
Instructions
Combine olive oil, lemon juice, minced garlic cloves, turmeric, chopped cilantro and salt to create a marinade.
Place marinade in a large zip-topped plastic bag and add chicken pieces, onion pieces, and mushrooms to the bag. Seal and place in refrigerator to marinate for at least one hour and as many as 8 hours.
Remove chicken, onions, and mushrooms from marinade and discard the marinade. Thread the pieces onto the skewers, alternating so that chicken will touch onions whenever possible.
Grill over high heat for 15 minutes, turning 3 or 4 times, so that all sides get browned and have nice char marks on them.
Serve, garnished with additional cilantro and lemon wedges if desired.
Prep Time:

1 hour

Cook Time:

20 mins

Category:

Entree
Did you like this recipe? The 21 contributing bloggers and I are proud to announce the release of AIP By Season: 101 recipes to help you eat seasonally with the Paleo Autoimmune Protocol. In this collection you'll find a wide variety of delicious cuisines and categories including snacks & drinks, sides & tapas, soups, main dishes, sauces & dips, and of course some treats for the occasional sweet tooth!