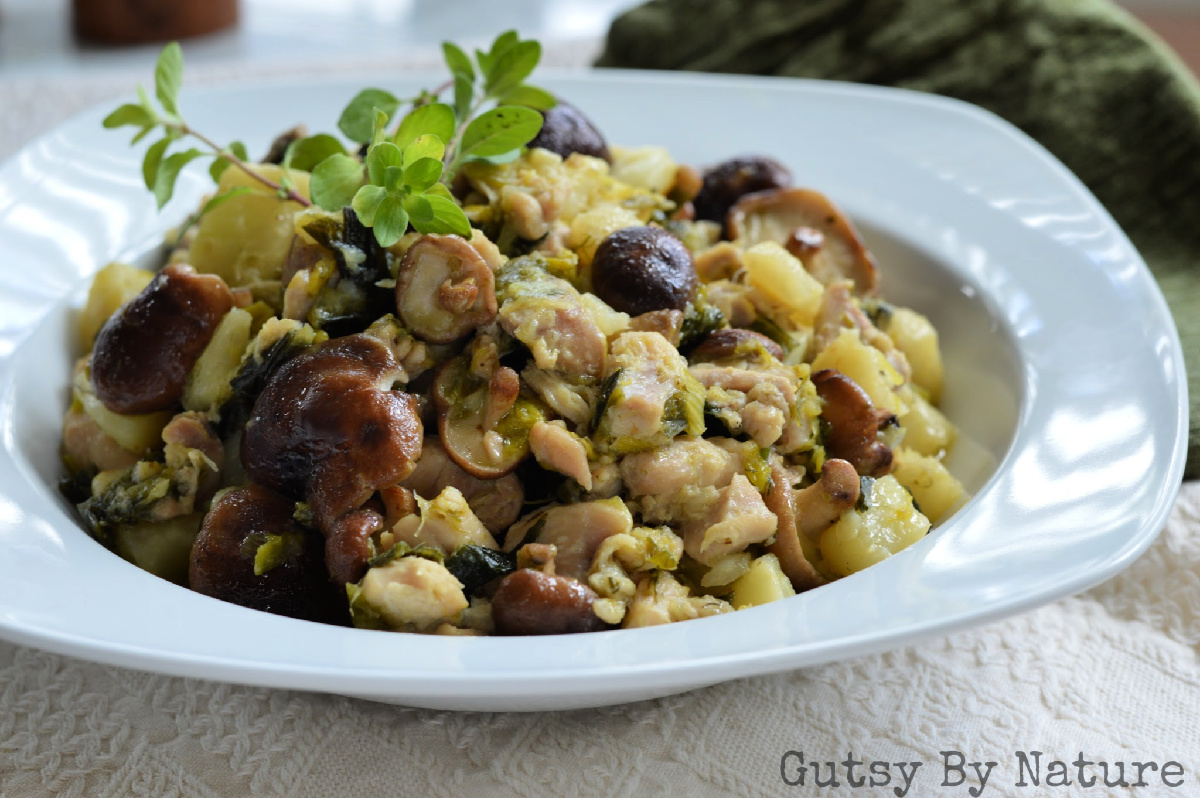 Celery root has recently become one of my favorite vegetables… and until not long ago, it was completely foreign to me. Ditto for several other ingredients in this delicious chicken & mushroom stew. Leeks? Bring them on! Shiitake mushrooms? Get in my tummy now! And marjoram? Oh yes, it is now one of my absolute favorite herbs. And none of those were part of my diet before I started my journey into healing with real food.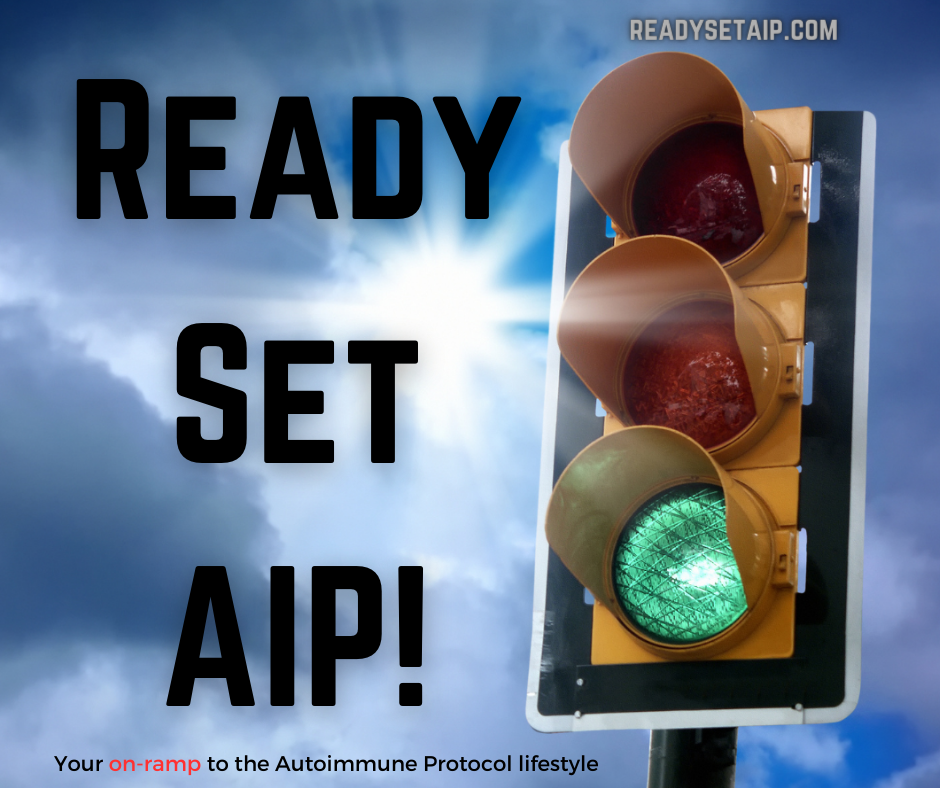 This is the sort of recipe I think of with a laugh whenever I hear someone say that "AIP is restrictive."
Restrictive? In fact, my diet has become far more expansive in the few years since I cut out the grains and nightshades and processed foods of the standard diet I'd been eating since childhood. Even before I started reintroductions and was still on the full elimination phase of the Paleo autoimmune protocol (AIP) my daily food intake actually had much more variety in it than it had ever had before.
That's why I think everyone can benefit from eating recipes like this labeled "AIP," even if they have no need to avoid any particular foods. This one in particular offers a host of nutritional benefits. Here are just two…
Gut health
Celery root (also known as "celeriac") has nearly three grams of fiber per cup and the leeks and mushrooms in this recipe add even more. We all know that fiber is critical for regularity and general gut health, but did you know that mushrooms contain a very unique type of fermentable fiber that supports the growth of Bifidobacterium, Lactobacillus, Akkermansia, and Bacteroides – all highly beneficial species of bacteria in the gut? I try to eat mushrooms daily, or at least as often as every three days. Want to learn more about the unique beneficial properties of mushrooms? Here is a great post from Sarah Ballantyne on that topic.
Bone health
Everyone always thinks of calcium when it comes to bone health, but there are a myriad of cofactors that are required for the calcium you take in to actually strengthen your bones. One of these is vitamin K and it just so happens that celery root is one of the best sources of that vitamin K you can get! Just one cup provides almost 80 percent of your daily need.
The mushrooms in this recipe add a whole host of other critical minerals for bone health, including potassium, zinc, copper, manganese, and selenium. Quantities will vary, depending on the variety you select. When I made this recipe for the pictures I had a package of baby shiitake mushrooms that I had picked up on impulse, and I was glad for it because they made for prettier images of what would be an otherwise pretty drab looking dish! But you could use white button mushrooms or any pretty much any type you like.
Note on ingredients
Most of the ingredients will be found in your local grocery store, but you might have to hunt a little bit for the celery root. If you can't find it, don't be shy about asking! Once you find it, you'll want to try some more celery root recipes, so here are a few to get you started:
For things like olive oil and general seasonings like salt, plus bone broth if you don't want to make your own, I always recommend ShopAIP.
Chicken & Mushroom Stew Recipe
Print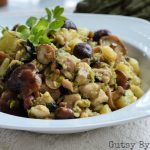 Chicken & Mushroom Stew with Celery Root & Marjoram (AIP)
---
Author:

Total Time:

1 hour

Yield:

4

servings

1

x
Description
Enjoy this comforting low carb and AIP-friendly chicken and mushroom stew. Celery root provides additional nutrient density and marjoram adds to the unique flavor.
---
1 tablespoon

olive oil

1

pound boneless skinless chicken thighs, cut into bite-sized chunks

1 teaspoon

salt

1

medium leek (about

2 cups

), cleaned and sliced into 1/2 inch pieces

1

small-medium celery root (about

2 cups

), peeled and cut into 1 inch cubes

2 tablespoons

fresh marjoram, chopped (or

1 teaspoon

dried marjoram)

1 cup

bone broth

4 ounces

mushrooms (any variety), cut into bite-sized pieces if needed
---
Instructions
Over medium-high heat, heat oil in dutch oven or other large pot with lid.
Add chicken and salt and cook until lightly browned, stirring occasionally to allow all sides to brown (about 5 minutes).
Add leeks, celery root, and marjoram. Cook, stirring occasionally, just until green parts of leeks have turned a vibrant color (about 3 minutes).
Add broth and bring up to a simmer. Reduce heat to low.
Cover and cook for 20 minutes.
Uncover, stir in mushrooms, and cook for another 15 minutes, or until the mushrooms have released their juices and are tender.
Prep Time:

15 mins

Cook Time:

45 mins

Category:

Entree
Did you enjoy this recipe? Want to be the first to hear about new AIP-friendly, gluten-free, Paleo recipes? Please sign up for my weekly email newsletter to stay in the loop!