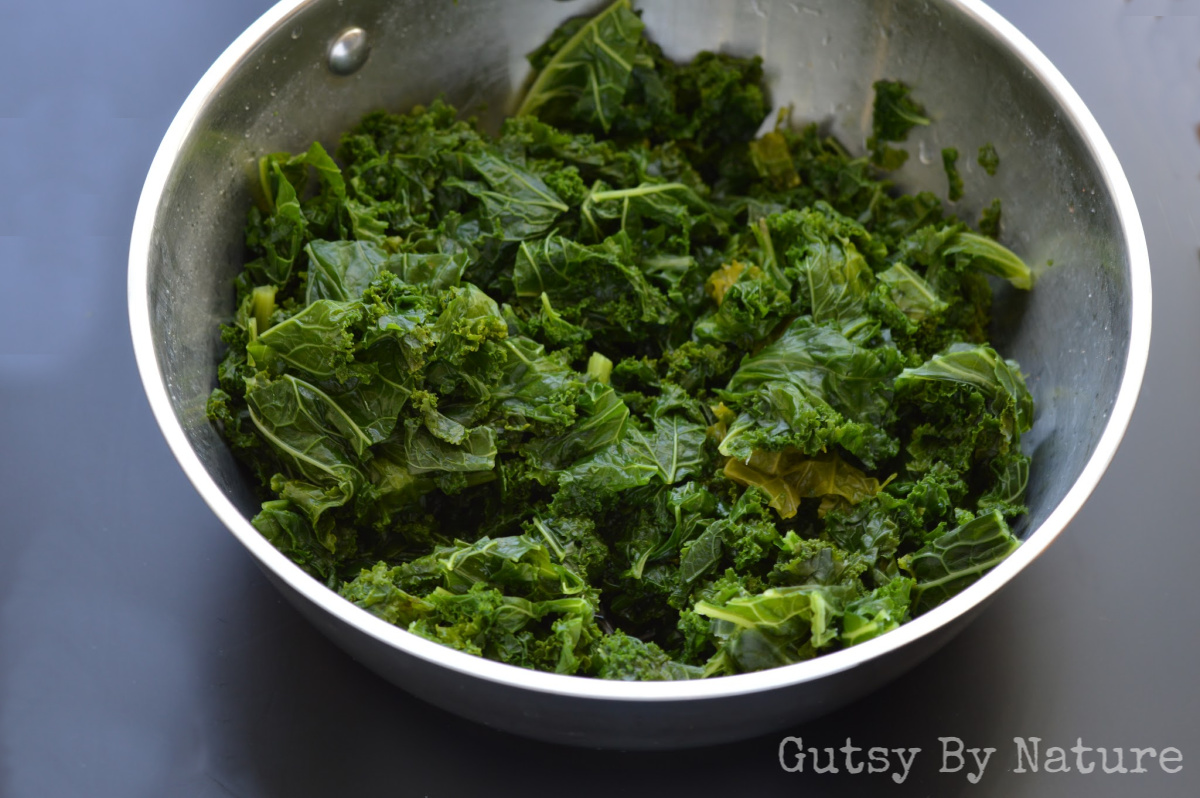 Whoever has been doing the PR for kale these last few years deserves a raise, because if there is one thing it seems like we all agree on is kale's "superfood" status! It is thought to be one of the most nutrient-dense foods on the planet (though not quite the very top, ounce for ounce – the food that has that honor should hire kale's PR firm today!). There a lots of ways to consume kale, but I find that my digestion is happiest with it cooked, so I'm sharing with you a very simple way of cooking it either to serve immediately or as part of a meal prep session to be eaten throughout the week.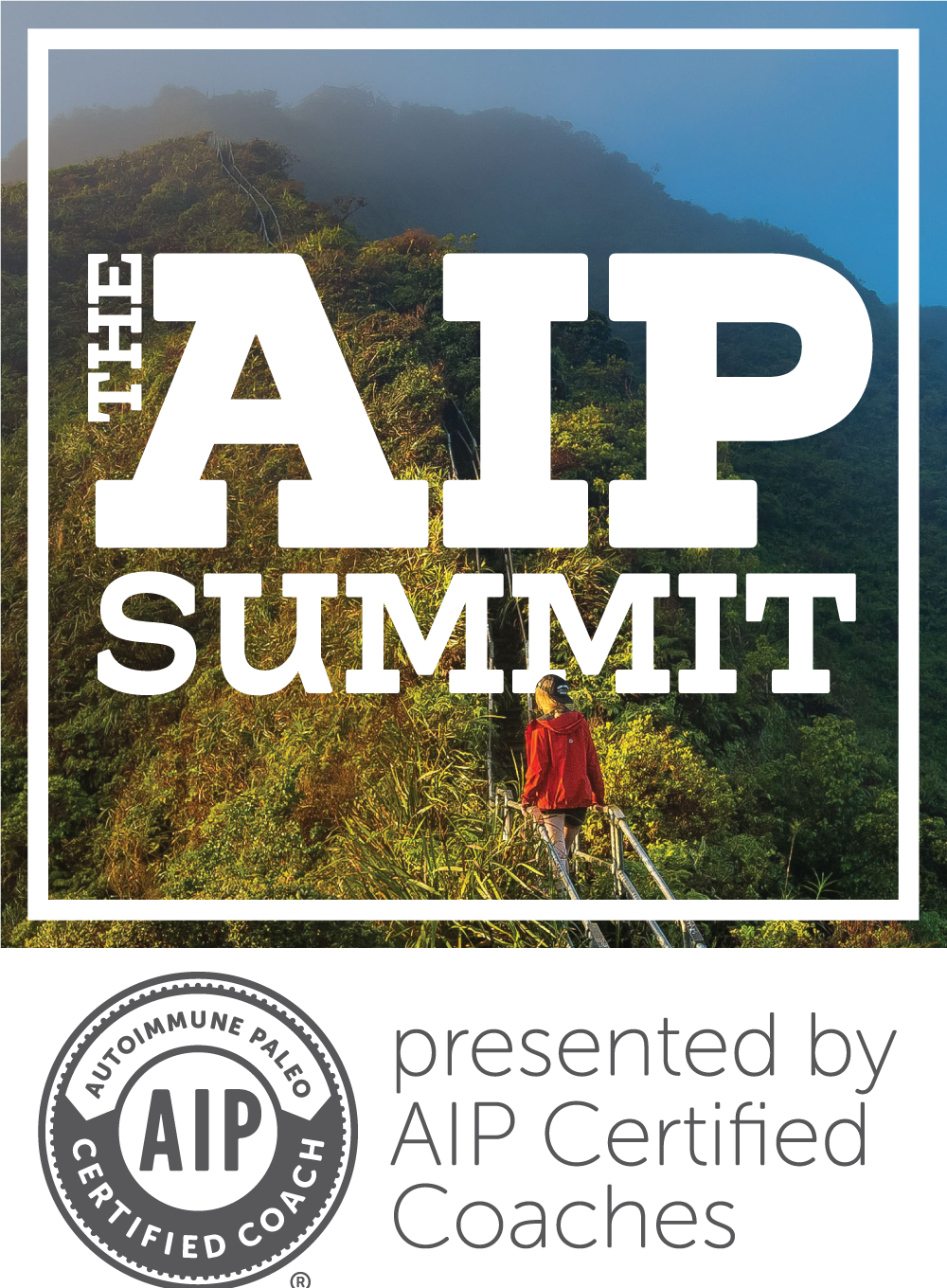 This is the third entry in my year-long series highlighting the easiest way I know to prepare some of the most nutrient dense powerhouse ingredients that we know we SHOULD be eating all the time, but especially when we are in a healing phase and following an elimination diet like the Autoimmune Protocol (AIP).To view the rest of the easy recipes in the series, click here.
Be sure you come back next week when I share 10 of the best and easiest kale recipes from my favorite AIP bloggers!
The nutritional value of kale
Kale is a leafy green vegetable in the brassica family, which means it is in the cabbage family, though it doesn't form a head. It has been available in the United States since the 1800s, one of many foods that were introduced here by the USDA botanist David Fairchild (fascinating podcast about him here!), though until the 1990s it was mostly grown as an ornamental crop, which is why those of us over a certain age still think of kale as a little "exotic"!
A single 1 cup serving of kale provides over 100% of your daily need of vitamin A, K, and C, plus significant amounts of vitamin B6, manganese, calcium, copper, potassium, and magnesium (source). This combination of nutrients is particularly important for bone health, which is often a concern for people who are unable to eat dairy products either permanently or temporarily.
Additionally, the flavonoids quercetin and kaempferol are found in relatively large amounts in kale (source) and are believed to be antioxidants, which are substances that help counteract oxidative damage by free radicals in the body.
Who should be cautious with kale?
Kale and most leafy greens are very high in vitamin K, which plays a role in healthy blood clotting, so if you are taking warfarin (a "blood thinner"), you need to work with your doctor to monitor your blood levels while increasing your intake of these vegetables (source).
What about oxalates?
A serving of kale averages about 17 milligrams of oxalate, the compound that is part of a chemical cascade that can trigger the formation of a certain type of kidney stone in susceptible people and may contribute to pain in certain people. Compared to spinach or Swiss chard, kale is a much "safer" option for people who need to be mindful of oxalate intake (source).
Purchasing and preparing kale
There are many different varieties of kale and more are being stocked in the produce section of American supermarkets in recent years. Most likely you will find dark green curly kale and possibly also a broader large leaf variety called Tuscan, lacinato, or dinosaur kale. Both types are great for the recipe that follows and "baby" versions are nice in salads.
Easy Blanched Kale Recipe
Print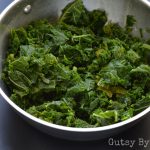 Easy Blanched Kale (AIP, SCD)
---
Author:

Total Time:

11 mins

Yield:

6

servings

1

x
Description
Let this recipe for blanched kale be your canvass of creativity. Eat it as is, or dress it up with some olive oil, lemon juice, and seasonings of choice.
---
1

pound kale

1 quart

water

1 teaspoon

salt
---
Instructions
With hands or with a knife, remove and discard the tough stems and ribs of kale leaves. Then roughly chop the kale leaves.
In a large saucepan, place kale, water and salt over high heat. Bring water to boil and then set a timer for 6 minutes.
Drain off hot water. If not serving immediately, cool quickly by running under cold water or filling saucepan with ice water. Drain and squeeze out as much water as possible before storing.
Keep covered in refrigerator for up to 5 days or freeze for up to 3 months.
Prep Time:

5 mins

Cook Time:

6 mins

Category:

Side
Did you enjoy this recipe? Want to be the first to hear about new AIP-friendly, gluten-free, Paleo recipes? Please sign up for my weekly email newsletter to stay in the loop!

Wondering where to buy AIP compliant cooking oils and other shelf-stable ingredients? I suggest ShopAIP!

Other easy kale recipes from my blog archives