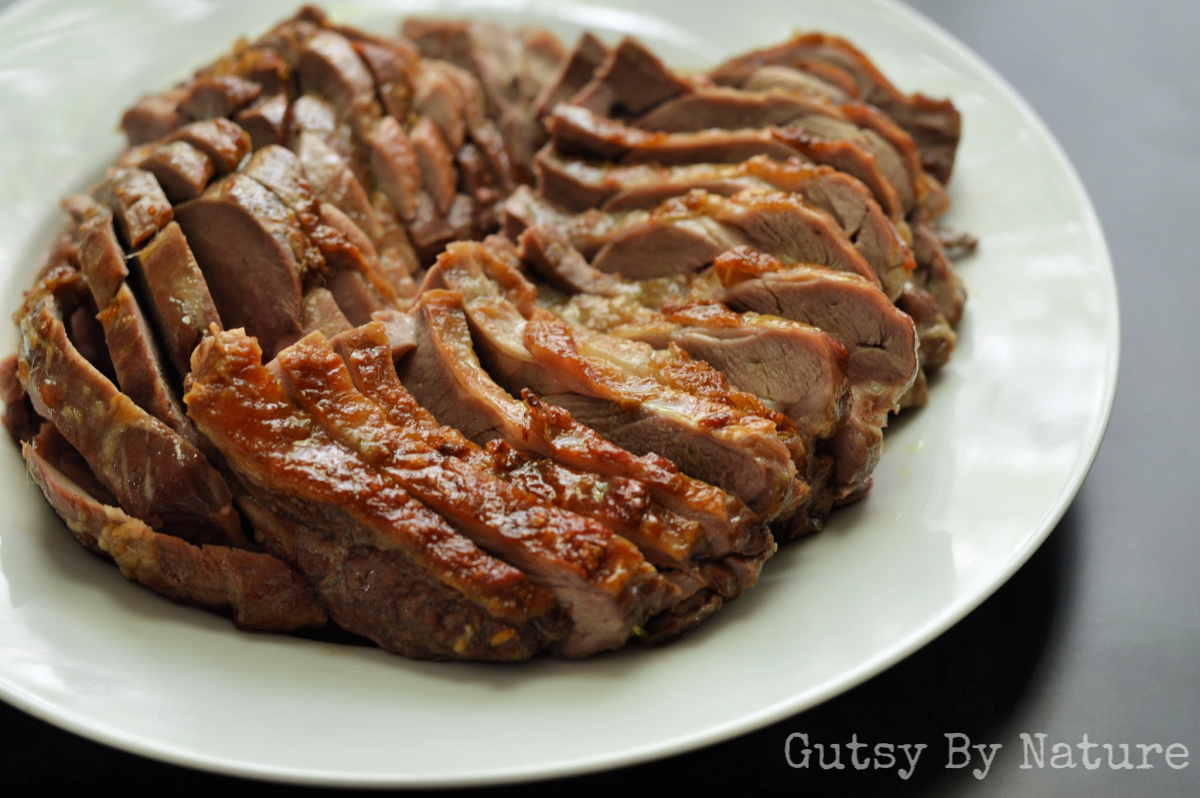 I'm tickled pink at how perfectly delicious this flavorful and ultra-easy roast lamb came together! It utilizes boneless leg of lamb, a cut that is usually accessible in mainstream grocery stores, provides the flavor of a stuffed roast, but with none of the fuss, and is ready to serve in after just two hours of mostly hands-off preparation time. This technique is also adaptable to other flavors, so feel free to incorporate other aromatic herbs and spices in the first step.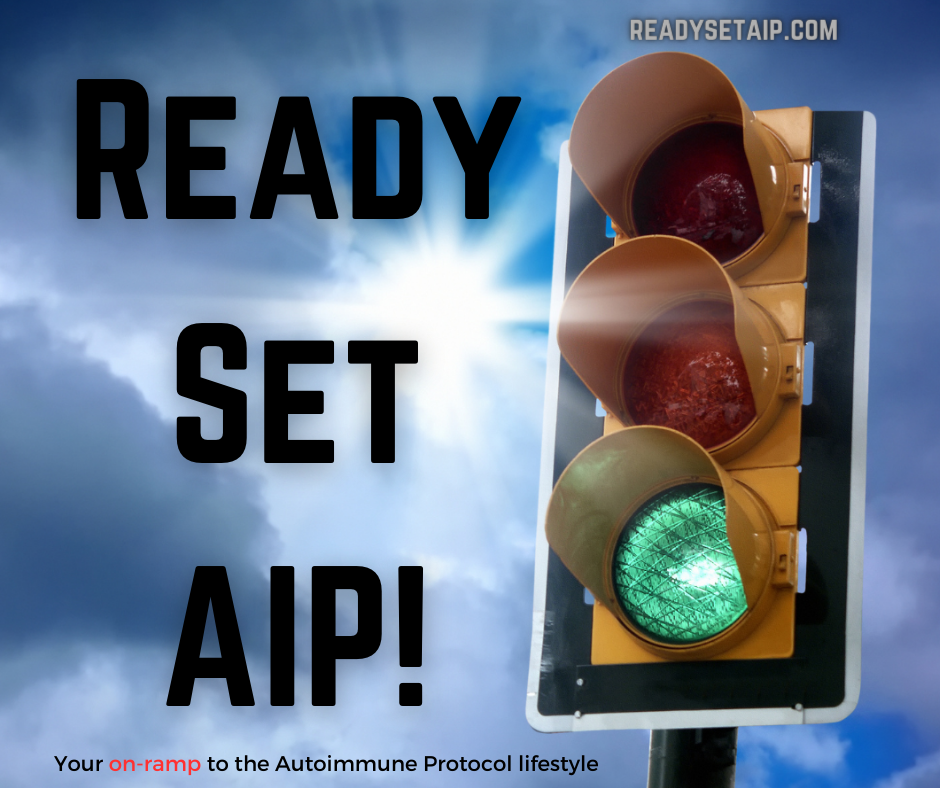 Learning to love lamb meat
Like most Americans, I didn't grow up eating lamb and didn't care for it much when it was served to me. And for much of my adulthood, I thought lamb was something only people who did grow up eating it would like. But then when I started learning about nutrition and the value of consuming a variety of whole foods of all types, I made a commitment to begin eating it from time to time… and eventually realized that my taste buds were maturing as my culinary horizons expanded and that I had come to enjoy lamb so much that I stock the freezer with a whole lamb each spring from a local Virginia farmer. That then had the added benefit of pushing me to learn more about preparing other cuts of lamb and develop a number of recipes over the years (see below the recipes for some links to other lamb recipes in the archives).
NOTE: This is the eighth entry in my year-long series highlighting the easiest way I know to prepare some of the most nutrient dense powerhouse ingredients that we know we SHOULD be eating all the time, but especially when we are in a healing phase and following an elimination diet like the Autoimmune Protocol (AIP).To view the rest of the easy recipes in the series, click here.
Be sure you come back next week when I share 10 more of the best and easiest recipes featuring a variety of lamb cuts from my favorite AIP bloggers!
The nutritional value of lamb meat
According to this source, a single serving of lamb provides more than 100% of your daily need of vitamin B12 and is also a very good source of selenium, zinc, phosphorus, and vitamin B3. Lamb is part of the traditional Mediterranean diet, which is frequently touted as being ideal for cardiovascular health and more. Grass-fed lamb in particular is a good source of omega 3 fatty acids and conjugated linoleic acid.
Tips for purchasing lamb
When shopping for lamb meat, look for meat labeled as "grass-fed," which fortunately is the way most lamb is raised, both in the United States and in New Zealand. The cuts that hail from US will probably be a bit larger than from New Zealand, and aficionados may be able to detect a difference and have a preference. You may also find lamb meat from Australia, but be sure to check labels because some Australian lamb is partially grain-fed.
For this easy recipe, make sure you get a boneless leg of lamb roast. It will likely be wrapped up in a twine netting, which you will remove and discard prior to cooking so that you lay the meat out, "boned-side" down, on top of the pre-cooked aromatics. This will give you all the flavor and juiciness of a stuffed lamb roast, but with none of the fuss and effort needed to tie it back up.
If the only thing you can find is a bone-in roast, then pick a different recipe (such as this one).
Easy Roast Lamb Recipe
Print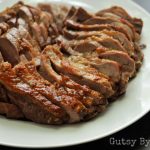 Easy Roast Lamb (AIP, SCD)
---
Author:

Total Time:

2 hours 15 mins

Yield:

4

-

5

servings

1

x
Description
Untie a boneless leg of lamb roast and roast on top of aromatics to get all the flavor of a stuffed lamb roast with none of the fuss and in half the time.
---
1

boneless leg of lamb roast (

3

–

4

pounds)
Coarse sea salt

1/4 cup

olive oil

1

small onion, peeled and sliced thinly

4

garlic cloves, peeled and smashed

1

small lemon, sliced thinly

3

sprigs fresh rosemary
---
Instructions
If lamb roast has a netting around it, remove and discard. Unroll the meat and spread out in a single layer with the fat side facing up. Use a sharp knife to cut small slits in a crosshatch pattern on the fat, taking care not to actually cut into the meat. Sprinkle generously with salt and rub over both sides of roast. Let stand at room temperature for 1 hour while you proceed to step 2.
Preheat oven to 250° F.
Stir together olive oil, onion slices, garlic cloves, lemon slices, and whole rosemary sprigs. Spread on a rimmed baking sheet and place in oven to bake for 1 hour, or until onion and garlic slices are soft and golden and everything is fragrant.
Remove baking sheet from oven. Pat meat dry with paper towels and transfer to baking sheet, fat side up, arranging so that the onions and other aromatics are tucked underneath the meat.
Return baking sheet to a rack in the oven placed on the lower middle setting and roast for 30-40 minutes or until lamb registers 120° F.
Switch oven to broil setting and adjust rack so the baking sheet with meat will be 4-5 inches below it. Broil 3-8 minutes, or until fat is well browned but not burned.
Remove from oven. Use tongs to transfer meat to carving board, leaving the aromatics behind to be discarded.
Let meat rest for 20 minutes, then slice lamb against grain into 1/4-inch thick slices for serving.
Prep Time:

15 mins

Cook Time:

2 hours

Category:

Entree
Did you enjoy this recipe? Want to be the first to hear about new AIP-friendly, gluten-free, Paleo recipes? Please sign up for my weekly email newsletter to stay in the loop!
Wondering where to buy AIP compliant cooking oils and other shelf-stable ingredients? I suggest ShopAIP!

Other lamb recipes from my blog archives
Click to Pin It!