I was raised on a mostly meat and potatoes diet, but lamb wasn't one of the meats in the rotation. It wasn't until I was in my 20s that I first tried lamb and I must admit it wasn't love at first bite. For the next 15 or so years I simply avoided it. But then last year I revamped my diet to be as nutrient dense as possible and discovered that lamb is actually one of the best foods we can eat, particularly if it is grass fed. So I decided to make an effort to include it in my menus every once in a while and along the way discovered that my initial impressions were wrong and that lamb is not only healthful but can also be quite delicious! This recipe for stuffed leg of lamb roast is inspired by the flavors of Italy and is free of grains, dairy, and nightshades so it is great for people following a paleo diet, including those on an autoimmune protocol.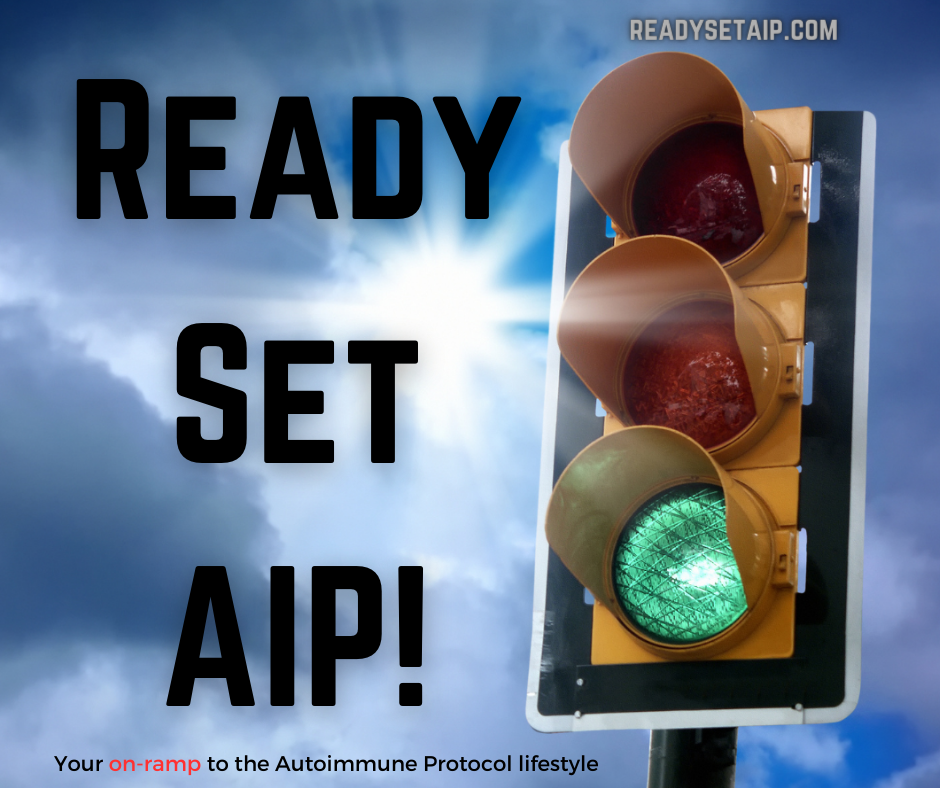 What are the nutritional qualities of lamb?
Lamb is an extremely high quality protein, containing high amounts of all of the nine essential amino acids, giving it an amino acid score of 141 as calculated by the Institute of Medicine's Food and Nutrition Board. A single serving of lamb contains more than 100% of the recommended daily intake of vitamin B12 as well as significant amounts of thiamin, niacin, riboflavin, vitamin B6, and pantothenic acid.
Quality lamb meat contains high amounts of zinc (84% DV) – which may be particularly beneficial for people with Crohn's disease because supplementation with zinc has been shown to tighten "leaky gut" in people with the condition. It is also a good source of phosphorous (57%) and iron (32%) and contains significant amounts of selenium, magnesium, potassium, and copper.
Additionally, lamb has been found to be a good source of beneficial omega 3 fatty acids and grass fed lamb averages at least 25% more than its grain fed counterpart. According to this source, that is enough that it rivals the omega 3 content of fish. Getting a good balance of omega 3 and omega 6 fatty acids seems to be of particular importance for people with inflammatory bowel diseases and other autoimmune diseases, so lamb is an excellent choice for people with Crohn's disease for multiple reasons!
How I created this recipe
My inspiration for this dish came from Bruce Aidells's porcini and artichoke-stuffed leg of lamb in his outstanding Great Meat Cookbook. This cookbook is not paleo but has some inspired recipes and tons of information for sourcing and using sustainable meats, so I highly recommend it to people who are comfortable making the needed modifications. For example, this recipe called for bread crumbs, for which I used cauliflower instead. If you prefer, you could use crumbs made from homemade grain free bread.
Notes for healing diets
Print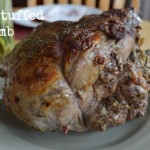 Italian Stuffed Leg of Lamb Roast (Grain & Dairy Free)
---
Author:

Total Time:

2 hours 30 mins

Yield:

8

1

x
Description
Grain free, paleo friendly stuffed leg of lamb with Italian flavors.
---
1

4-5 pound boneless leg of lamb

1 tablespoon

coconut oil

1/2 cup

raw cauliflower, finely chopped

1

small shallot, chopped

3

cloves garlic, finely chopped

4 ounces

white button mushrooms, roughly chopped

1 cup

coarsely chopped artichoke hearts (frozen or canned)

2 teaspoons

dried oregano (divided)

3 tablespoon

olive oil
salt and freshly ground pepper
---
Instructions
Remove lamb from packaging and unroll on a work surface. Allow to sit at room temperature for one hour.
Heat coconut oil in large skillet over medium heat. Add cauliflower and sautee until soft (about 5 minutes).
Add shallot, garlic, mushrooms, and artichoke hearts. Sautee until mushrooms have released their liquid (about 5 more minutes).
Add 1 teaspoon of oregano and salt and pepper to taste. Let cool for at least 30 minutes.
Preheat oven to 350 F.
Spread stuffing over the lamb, pressing it into any crevices. Reform the lamb into a cylindrical shape and tie it in 4 to 6 places with butcher's twine.
Combine the olive oil, remaining teaspoon of oregano, 1 teaspoon salt, and 1 teaspoon pepper in a small bowl and brush all over the lamb.
Place roast on a rack in a roasting pan. Roast for 1 1/2 hours, or until temperature of the thickest part is 120 – 125 F.
Let rest, tented with aluminum foil, for 15-20 minutes. Remove the twine and slice into 1/2 inch slices for serving.
Prep Time:

1 hour

Cook Time:

90 mins

Category:

Entree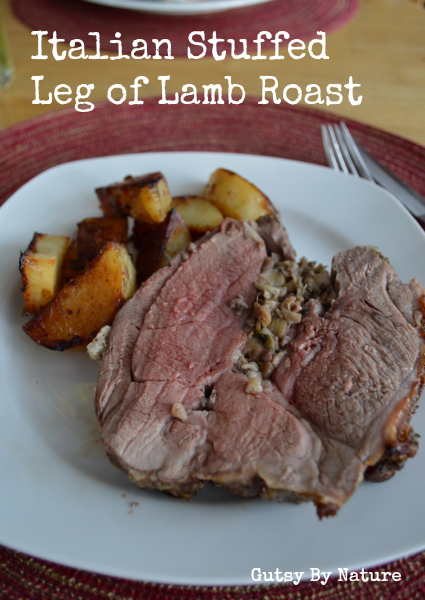 Shared on Paleo AIP Recipe Roundtable.