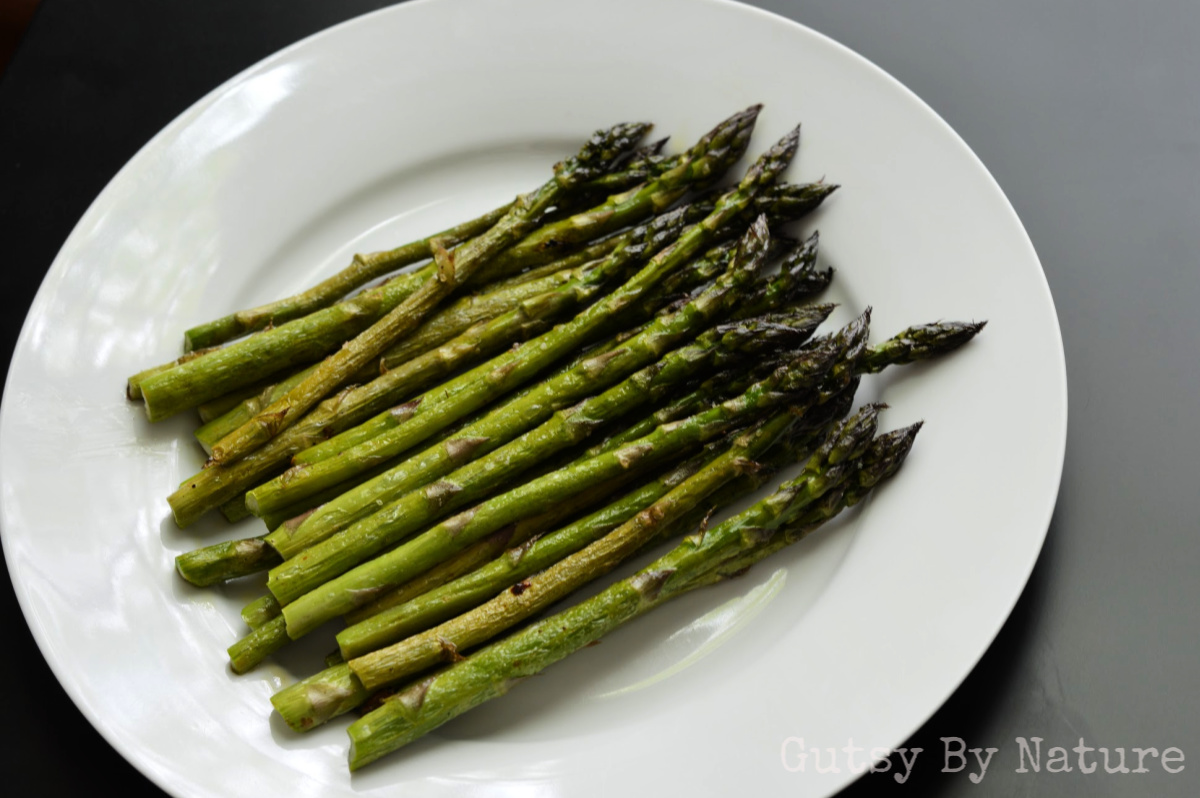 I try not to play favorites when it comes to vegetables and preparation methods, but if did I would be putting this broiled asparagus really high on that list! This easy recipe is the best of all worlds because it is fast and virtually fuss free, delicious and fun to eat (I never bother with a fork; asparagus spears are always finger food for me!), and has a high degree of nutritional value. There are many ways you could prepare asparagus, but nothing is simpler or tastier than what results from a quick blast under the oven broiler.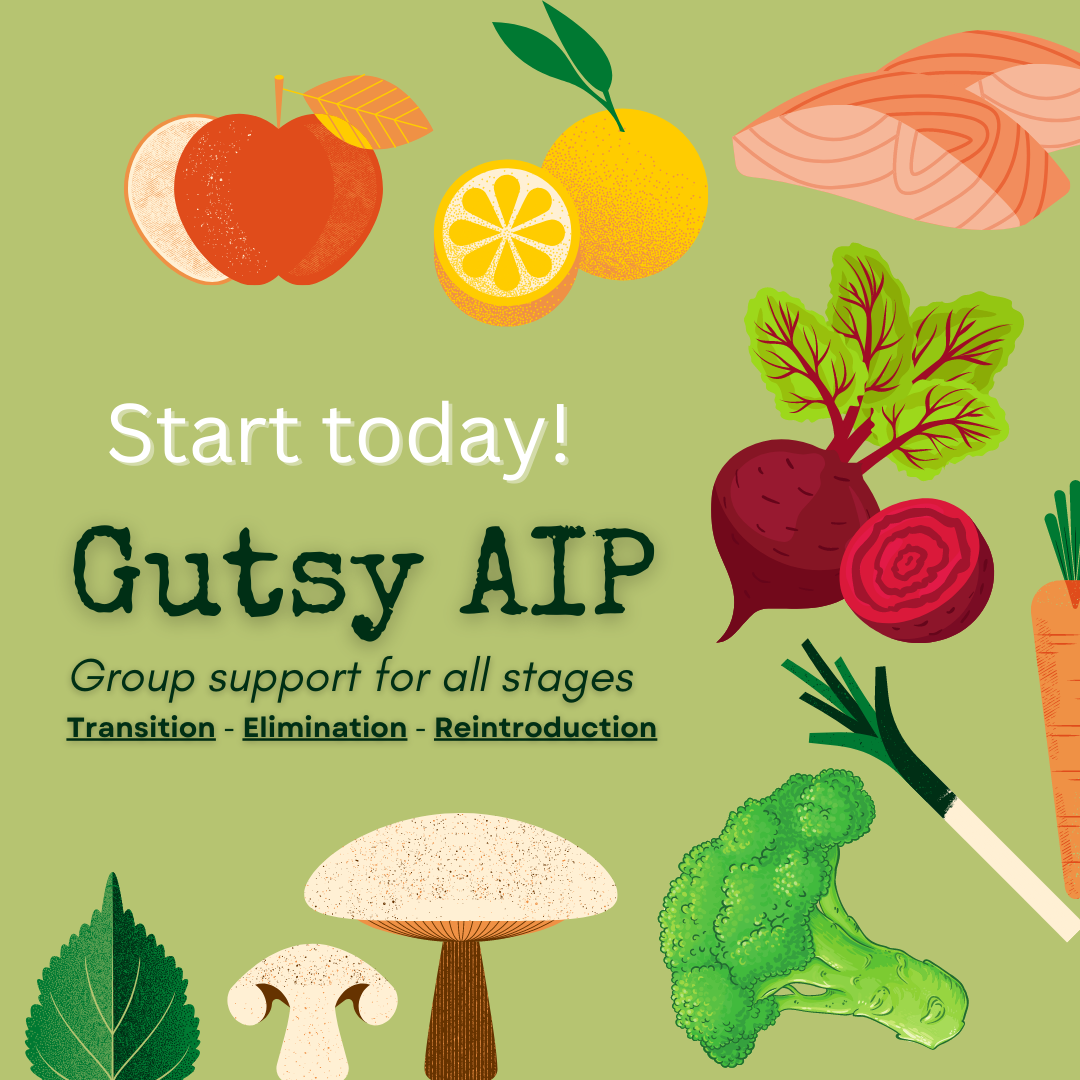 NOTE: This is the ninth entry in my year-long series highlighting the easiest way I know to prepare some of the most nutrient dense powerhouse ingredients that we know we SHOULD be eating all the time, but especially when we are in a healing phase and following an elimination diet like the Autoimmune Protocol (AIP).To view the rest of the easy recipes in the series, click here.
Be sure you come back next week when I share 10 more of the best and easiest recipes featuring asparagus from my favorite AIP bloggers!
The nutritional value of asparagus
No question about it, asparagus is nutrient dense. Actual numbers vary depending on the variety and who tested it, but all agree that it is an excellent source of vitamin K and a good source of vitamin A, vitamin C, folate, iron, copper, and selenium. It is also good for gut health as it contains a considerable amount of insoluble fiber, which adds bulk and supports regular bowel movements, and also a small amount of insoluble fiber and prebiotic inulin to support a healthy gut microbiome. (Source)
Who should be cautious with asparagus?
Asparagus, just like leafy greens, is very high in vitamin K, which plays a role in healthy blood clotting, so if you are taking warfarin (a "blood thinner"), you need to work with your doctor to monitor your blood levels while increasing your intake of these vegetables (source).
Tips for purchasing and storing
Though global trade means that people in the United States can purchase "fresh" asparagus most of the year, it is actually a very seasonal vegetable and one of the first to emerge in the spring. Evidence has emerged that the nutritional value of asparagus may be quite a bit higher when consumed closer to the time it has been picked, and I certainly belief the taste is better when it is local and fresh, so I mostly only enjoy it during the weeks it is available at my local farmer's market. To help extend that freshness, consider cutting off the bottoms of your fresh asparagus immediately and then storing upright in a glass of water in the refrigerator until you are ready to cook it.
Easy AIP Asparagus Recipe
Print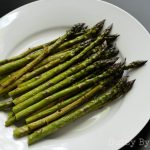 Easy Broiled Asparagus (AIP, SCD)
---
Author:

Total Time:

13 mins

Yield:

4

servings

1

x
Description
This is the fastest and most delicious way I know to prepare asparagus, while also retaining much of the high nutrient value.
---
1

bunch asparagus

1 tablespoon

olive oil
coarse sea salt
---
Instructions
If asparagus has tough woody ends, snap them off and discard.
Spread asparagus spears on a rimmed baking sheet. Drizzle with olive oil and then toss to coat evening and redistribute in a single layer. Sprinkle lightly with sea salt.
Place oven rack about 4 inches underneath broiler element. Preheat broiler.
Broil asparagus in oven for 4-8 minutes, watching closely to make sure it turns bright green and develops some light blistering but does not char. If your broiler has both a low and high heat setting, you might prefer to start it on low and then increase to high for just the last minute or two.
Remove from oven. Let sit for 2 or 3 minutes and then serve.
Prep Time:

5 mins

Cook Time:

8 mins

Category:

Side
Did you enjoy this recipe? Want to be the first to hear about new AIP-friendly, gluten-free, Paleo recipes? Please sign up for my weekly email newsletter to stay in the loop!
Wondering where to buy AIP compliant cooking oils and other shelf-stable ingredients? I suggest ShopAIP!

Other asparagus recipes from my blog archives
Click to Pin It!