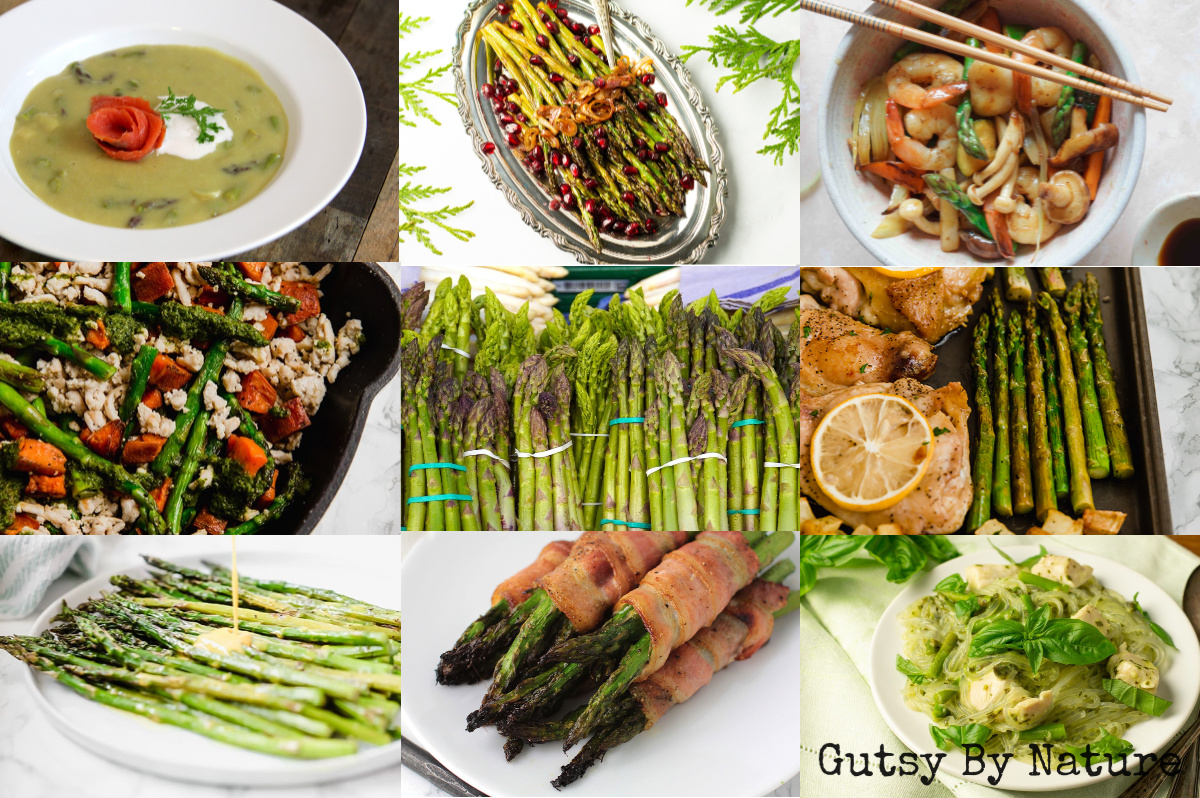 These asparagus recipes prove that this vegetable is epitome of easy! Practically no prep work is needed and it cooks in a flash. It is a delicious and nutritious addition to your vegetable rotation and should especially enjoyed when it is in season locally.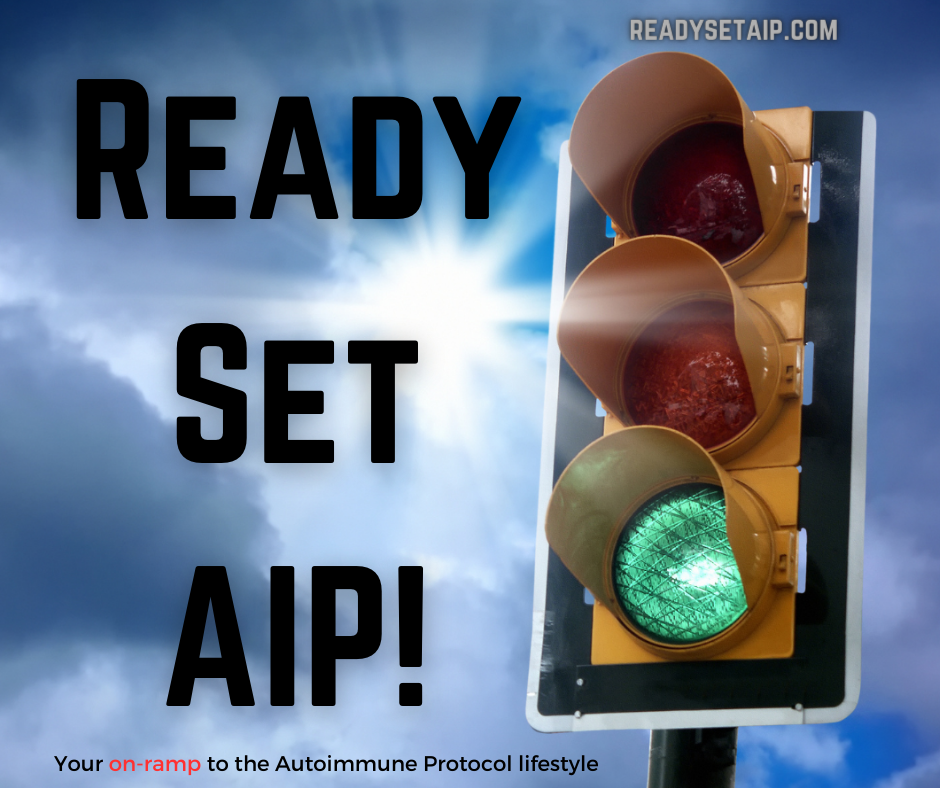 Why eat asparagus? No question about it, asparagus is nutrient dense. Actual numbers vary depending on the variety and who tested it, but all agree that it is an excellent source of vitamin K and a good source of vitamin A, vitamin C, folate, iron, copper, and selenium. It is also good for gut health as it contains a considerable amount of insoluble fiber, which adds bulk and supports regular bowel movements, and also a small amount of insoluble fiber and prebiotic inulin to support a healthy gut microbiome. (Source)
Easy AIP Asparagus Recipes
Last week I shared this recipe for a simple asparagus side dish, using the broiler in your oven: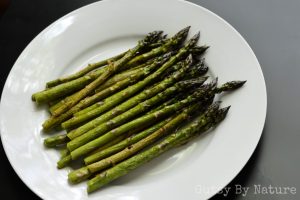 Easy Broiled Asparagus – Gutsy By Nature
And back in January, at the beginning of my "Easy AIP in 2020" series, asparagus made an appearance in this recipe that featured shrimp: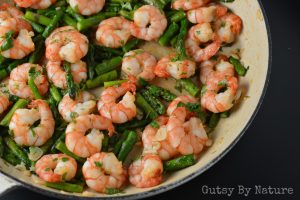 Easy Shrimp and Asparagus Stir Fry – Gutsy By Nature
---
Now, here are 10 more of the easiest AIP asparagus recipes I could find, courtesy of my AIP blogger friends!
For a classic appetizer everyone will love…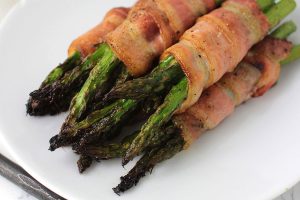 Bacon-Wrapped Asparagus – Autoimmune Wellness
---
For an easy side dish to dress up a holiday meal…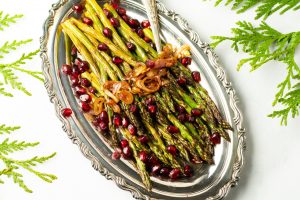 Pomegranate Roasted Asparagus – Wendi's AIP Kitchen
---
For a side dish with an extra anti-inflammatory boost…
Roasted Asparagus with Turmeric Dressing – Unbound Wellness
---
For when you are craving takeout…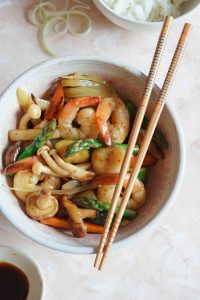 Chinese Shrimp Stir-Fry – Healing Family Eats
---
For a light lunch on a warm spring day…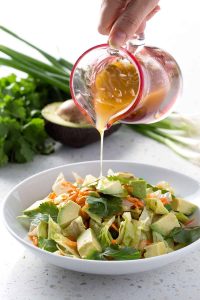 Best Chopped Salad – Bon Aippetit
---
For an all-in-one meal, when you don't want to turn on the oven…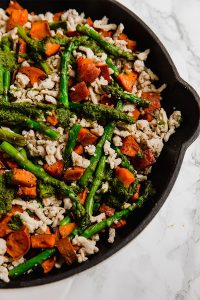 Asparagus, Turkey & Sweet Potato Skillet – Unbound Wellness
---
For an all-in-one meal, when you don't want to tend the stovetop…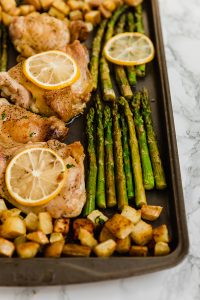 Sheet Pan Lemon Chicken and Asparagus – Unbound Wellness
---
For something creamy and soothing…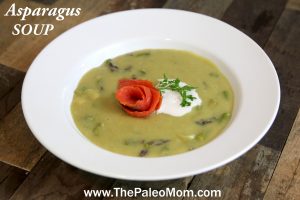 Asparagus Soup – The Paleo Mom
---
For pasta night…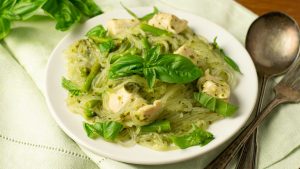 Creamy Basil Chicken Pasta – Wendi's AIP Kitchen
---
For your next cook-out or barbecue…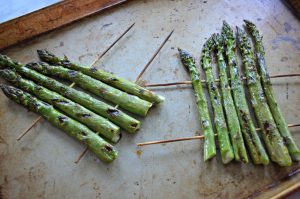 Grilled Asparagus with Lemon Herb Sauce – Gutsy By Nature
---
Did you enjoy this recipe roundup? Want to be the first to hear about new AIP-friendly, gluten-free, Paleo recipes? Please sign up for my weekly email newsletter to stay in the loop!

Click to Pin It!