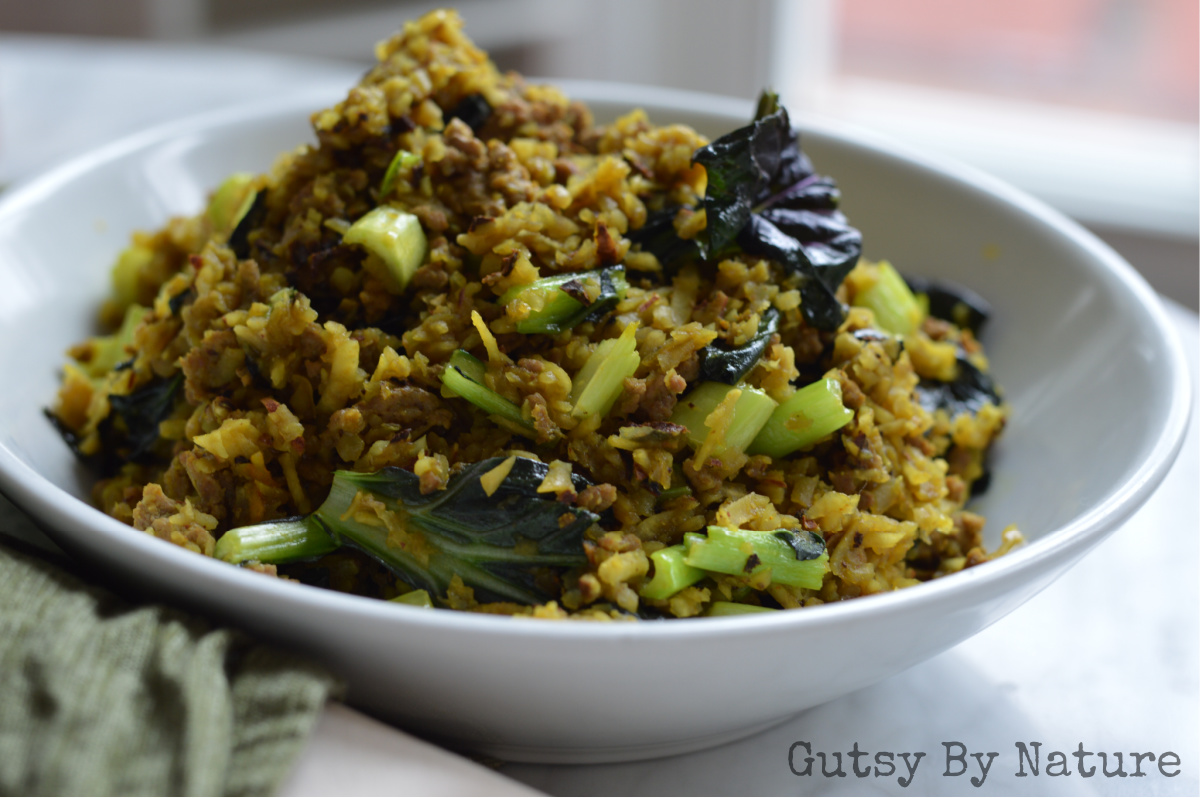 One of the principles of the autoimmune protocol is that we try to eat as much variety as we can within the parameters of the allowed ingredients, especially the vegetables. This recipe uses tatsoi, a leafy green member of the brassica family and closely related to bok choy, which has long been a staple of diets in much of Asia and is now gaining popular in North America as well. Tatsoi variations include both a standard green and a vibrant red, which when cooked turns a deep purple hue. This recipe also uses white sweet potatoes, which also have been common in Asia (in fact, you might see them labeled as "oriental" in the grocery store) and are now gaining ground elsewhere.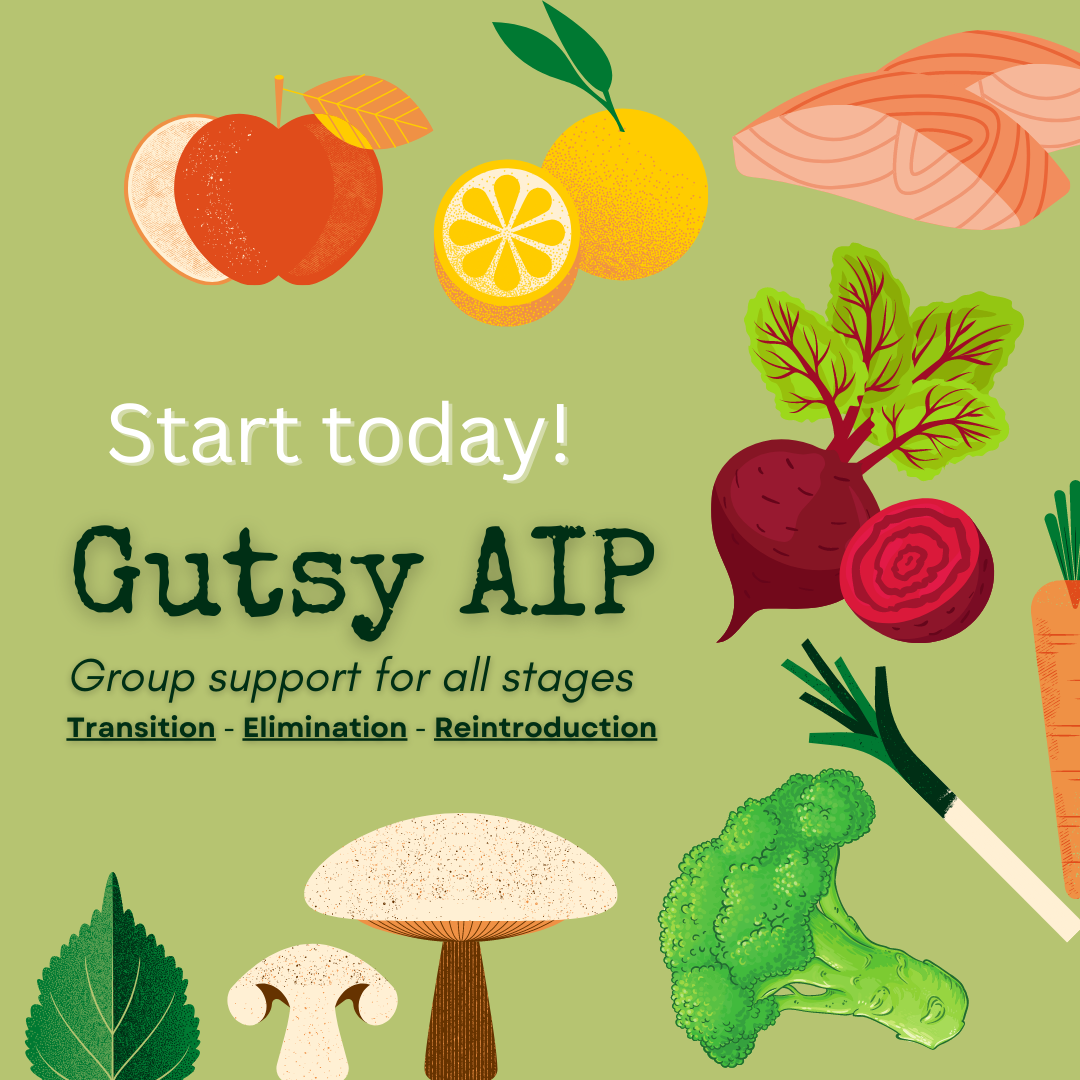 How to find tatsoi and what to use if you can't
It's worth at least trying to find tatsoi if you can because it is a great source of vitamin C and a serving has more calcium than a glass of milk (source). What's more, tatsoi also appears to be relatively low in oxalate (source), which means more of these nutrients can be utilized by your body. Learn more about tatsoi here, so you know what to look for in the produce section. If your store does carry it, it will likely be grouped with the other Asian greens like bok choy and Napa cabbage. If you have an Asian-focused international grocery market in your community, be sure to check there. If all else fails, you could use spinach in this recipe.
How to find white sweet potatoes and what to use if you can't
I'm always hearing from people who can't find white sweet potatoes and it often makes me wonder if the problem is simply that they don't know what to look for or how to ask for them. We food bloggers throw around the term as if it is an official name but there are actually multiple varieties of sweet potatoes that have white flesh and often look just like the orange ones we are used to seeing from the outside. When I'm unsure, I actually use my thumbnail to just scratch a tiny notch into the skin to see the color underneath! It also helps to know some of the common names – in the stores near me I've seen Hannah, Jersey, Murasaki, and just vaguely named "Japanese" or even "oriental."
But in this recipe, if you can't get any sweet potatoes with white flesh, feel free to simply use whatever color you do have. It will look a little different, but it will still work.
AIP Reintroduction Ideas
This skillet recipe as written is compliant with the elimination phase or the autoimmune protocol (AIP), but you can easily adapt if you are ready to expand your horizons. Here are just a few ideas…
Add 1/2 teaspoon ground black pepper (stage 1) in step 2.
Sprinkle with chopped cashews (stage 2) before serving.
Add 1/2 teaspoon paprika (stage 3) in step 2.
Add diced red bell pepper (stage 3) along with the sweet potato "rice" in step 4.
Add 1/4 teaspoon cayenne pepper (stage 4) in step 2.
Do you need a refresher on the reintroduction stages and the best way to test these foods? Check out this blog post by my friend and mentor Angie Alt – Reintroductions on AIP: The Definitive Guide.
Tatsoi & White Sweet Potato with Ground Meat Skillet Recipe
Print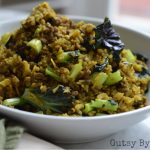 Tatsoi and White Sweet Potato with Ground Meat Skillet (AIP)
---
Author:

Total Time:

30 mins

Yield:

4

servings

1

x
Description
Wondering what to do with nutrient-dense tatsoi and white sweet potatoes? This recipe for a one pot meal will make them both shine!
---
1

large white sweet potato

1/2

pound ground beef, lamb, turkey, chicken or other meat

1/2 teaspoon

salt

1 teaspoon

garlic powder

1/2 teaspoon

turmeric

2 teaspoons

ground ginger

1 cup

bone broth

1

head green or red tatsoi
---
Instructions
Peel white sweet potato. Then use a food processor to chop it into "rice." (I found the most success by first using the shredding blade, then switching to the chopping blade to pulse them.) Set aside.
In a large cast iron skillet over medium heat, crumble and cook the ground meat until browned through (time depends upon the type of meat you chose to use). Season meat with salt, garlic powder, turmeric, and ginger.
Use a slotted spoon to remove cooked and seasoned ground meat from skillet to a bowl or plate and set aside. Do not wash skillet.
Return skillet to medium heat and add "riced" sweet potato and bone broth. Stir, then cover with lid and cook 3-5 minutes until tender but not mushy.
Meanwhile, clean and chop the tatsoi into bite sized pieces.
Add cut up tatsoi to sweet potato and broth mixture, stir to distribute evenly. Cover and cook for another 2-3 minutes, or until greens are vivid colored and softened.
Add meat cooked in step 2 and stir to distribute and allow to heat through.
Taste and adjust seasonings if desired.
Prep Time:

10 mins

Cook Time:

20 mins

Category:

Entree
Did you enjoy this recipe? Want to be the first to hear about new AIP-friendly, gluten-free, Paleo recipes? Please sign up for my weekly email newsletter to stay in the loop!

Now that you've found white sweet potatoes, what else can you make with them? Check out these recipes in my archives…
Looking for a one-stop shop your entire AIP journey, including reintroductions? I recommend ShopAIP!
Click to Pin It!