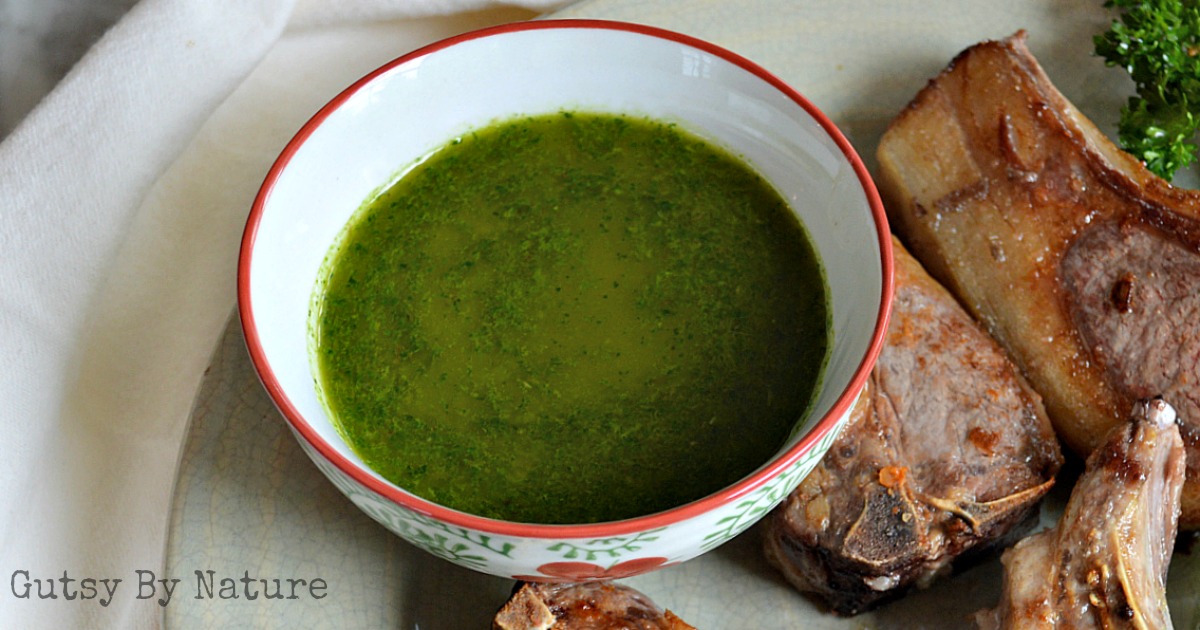 Here's a not-so-secret fact about me. I'm frugal. Of course, I'm willing to pay money for quality food, but I am waaaaaaay too frugal to buy fresh herbs at the grocery store. Especially because I know how very easy (and cheap!) it is to grow those herbs in practically no space and even in limited sun! And because I have done it for years now, I also know that my home grown herbs are far more flavorful than those sterile plastic-encased sprigs of something green will ever be.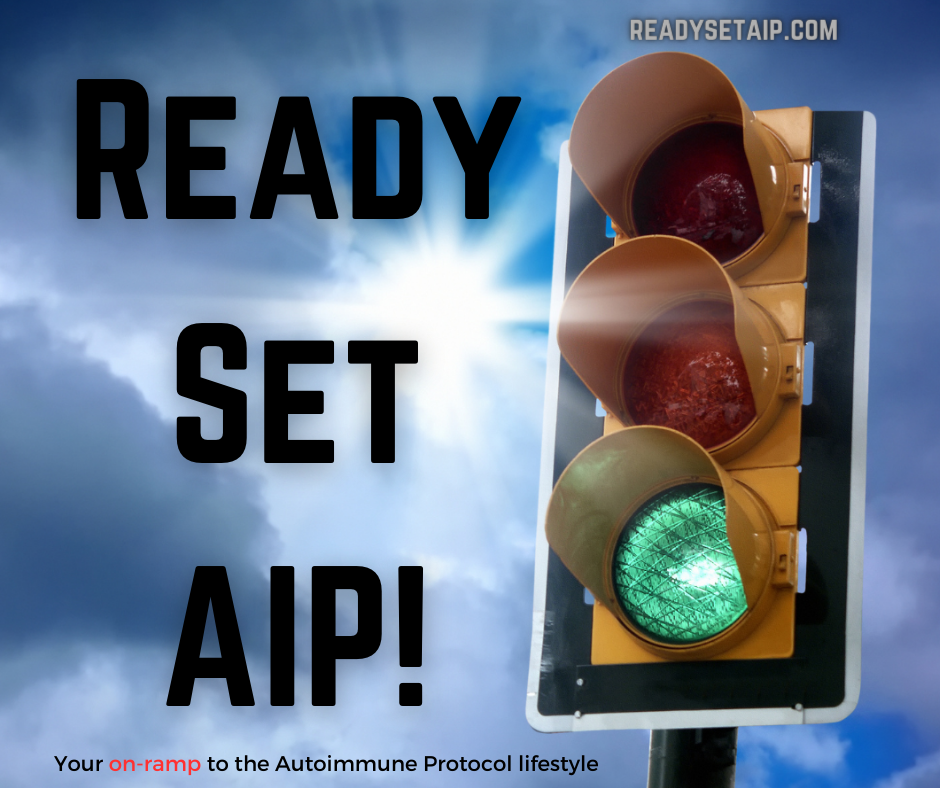 But alas, I live in northern Virginia, where the winter snow and freezing temperatures puts fresh herbs into dormancy or kills them off in winter. During those months, I ignore the many recipes I love that require fresh herbs, sticking only to dried. But now as we round out the end of May, my balcony herb garden is in full swing (see picture below) and I'm excited to start making all of those recipes I've been filing away.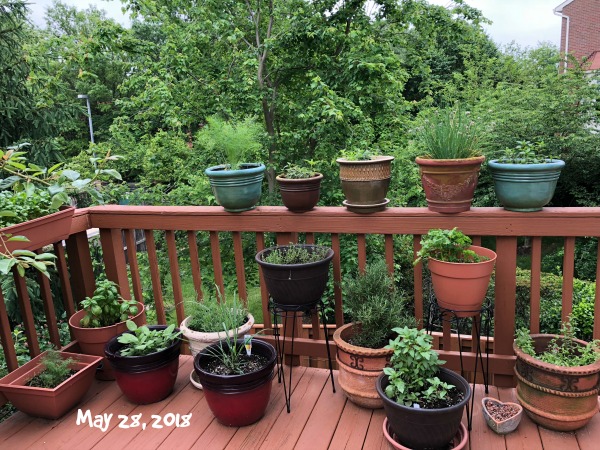 One recipe from my files that I have been anxiously waiting to make is this one for pesto frozen yogurt. Yes, you read that right! It isn't meant to be eaten as a dessert like we are accustomed to thinking when we hear "frozen yogurt," but as a stand-in for something cheesy and creamy on top of a salad. It is the brilliant brain child of my friend Maria, and is a featured recipe in her innovative cookbook called Zesty Scoop, containing frozen treats, both savory and sweet, all of which are dairy free and perfect for people on AIP. Now that warm weather has arrived, I'm keeping my ice cream maker cranking every week and am grateful to have her book to give me exciting new ideas!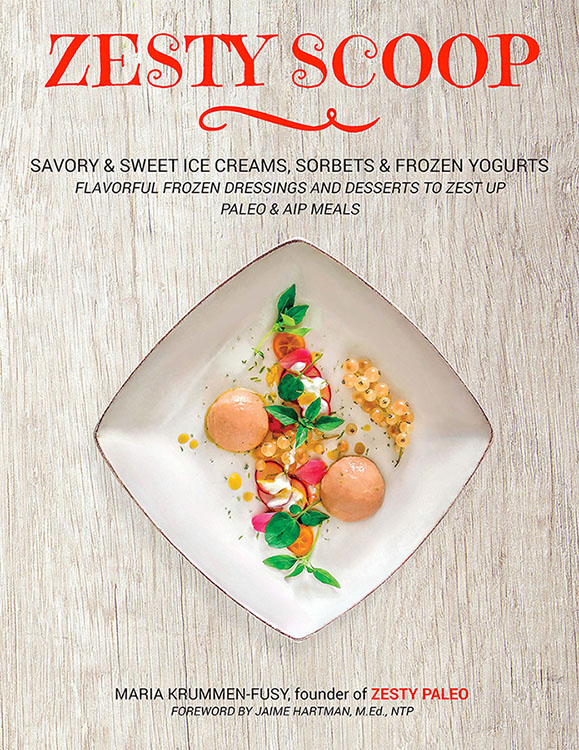 Yep, that's my name there on the cover! I'm really proud to have been asked to write the foreword to this book. It has my highest endorsement!! It is available both as an ebook (click here to go to Maria's blog and learn more) and now also as a print book on Amazon.
Herb Sauce
Another way to use the bounty of fresh herbs is to make an all purpose herb sauce that dresses up vegetables, grilled meats, and fish. The recipe I'm sharing here calls for specific proportions of mint, parsley, and rosemary – but you could make this with whatever herbs you are growing. I like this particular combination with lamb chops, but feel free to experiment! That's what makes cooking so much fun!
Print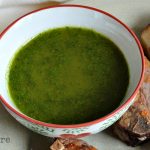 All Purpose Herb Sauce (Paleo, AIP, SCD, Vegan)
---
Author:

Total Time:

5 mins
Description
Herbs are extremely easy to grow… almost too easy! This recipe is a delicious way to use some of the bounty from your garden. It's delicious on grilled meats or roasted vegetables.
---
1/2 cup

mint

1/4 cup

parsley

1 tablespoon

rosemary
Pinch of salt

2 teaspoons

apple cider vinegar

1/2 cup

olive oil
---
Instructions
Rough chop mint and parsley and remove rosemary leaves from woody stem.
Place all three herbs, plus a pinch of salt, in a mini-food processor and process until very finely chopped.
Scrape down sides of food processor and add vinegar and olive oil.
Process until a smooth, emulsified sauce is produced.
Taste and add additional salt if desired.
Prep Time:

5 mins

Category:

Sauce
This is a newer version of the mini-food processor I use.

Want to know what other products I use and love? Click here to see my recommendations.
Did you enjoy this recipe? Want to be the first to hear about new AIP-friendly, gluten-free, Paleo recipes? Please sign up for my weekly email newsletter to stay in the loop!