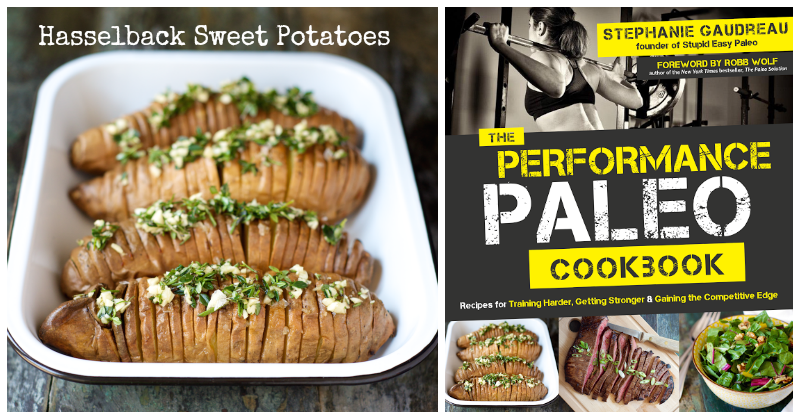 This recipe for Hasselback sweet potatoes is a special sneak preview from the soon-to-be-released The Performance Paleo Cookbook by Stephanie Gaudreau, the powerhouse blogger behind the highly successful Stupid Easy Paleo website. I made these as part of our New Year's Eve dinner and they were the star of the plate, even next to a delectable and juicy grass fed rib steak! They were so good I asked Stephanie if I could share them with you and she graciously agreed… Read on for the recipe as well as my full review of the book and why I think it is great for athletes and non-athletes alike.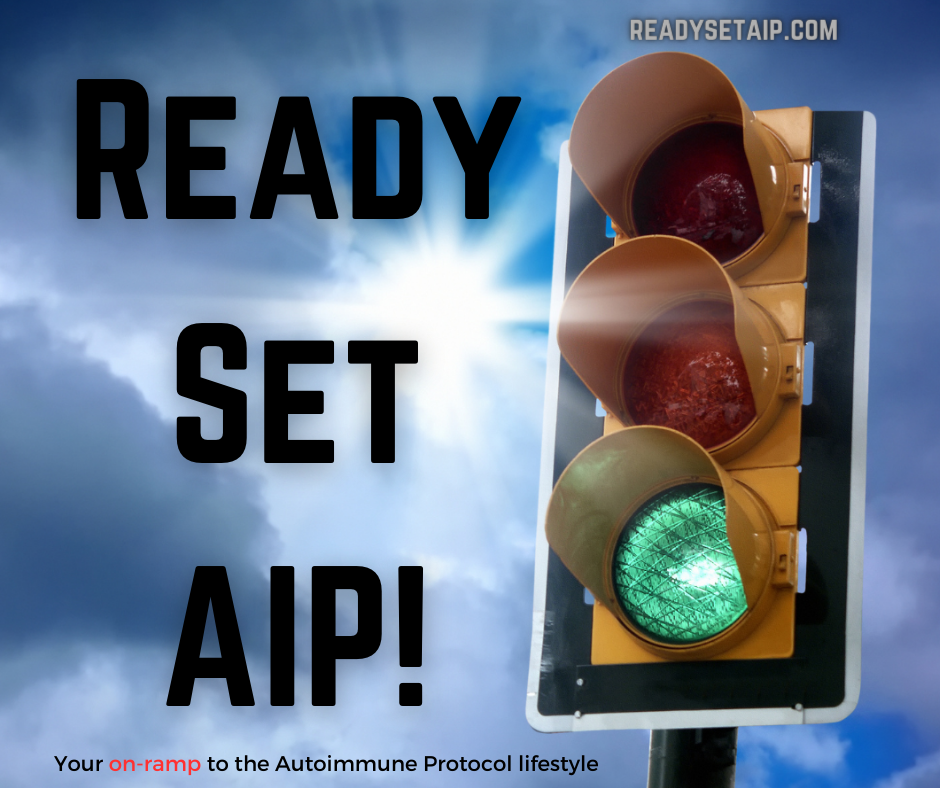 What makes The Performance Paleo Cookbook so great?
The "Paleo Diet" may have started out in the common vernacular and understanding as another way of eating to promote weight loss, but it is now so much more. People like myself have discovered that eating whole and unprocessed foods similar to what our ancient ancestors might have eaten has tremendous healing benefits, and helps healthy people fuel their bodies more effectively for athletic performance. It only makes sense that eating what our bodies evolved to thrive on would make us healthy and strong, doesn't it? And yet, somewhere a long the way athletes started believing that artificially flavored, chemically enhanced, and highly processed supplements, bars, and beverages were a necessary element of getting strong and competitive.
The Performance Paleo Cookbook aims to prove that a diet of whole foods rich in micronutrients and low in pro-inflammatory elements, consisting of meat, seafood, eggs, vegetables, fruits, and healthy fats, provides everything a competitive athlete (or weekend warrior) needs and packages it in a way that works for busy folks without hours to spend in the kitchen. The book includes more than 100 ideas for pre- and post- workout eats, meat-based dishes, carb-dense sides, tons of veggies, and sauces. Each recipe includes macronutrient breakdowns and if you need meal planning inspiration, Stephanie has helpfully included a chart that suggests fifty different recipe combo ideas.
One of the highlights in the introduction to the book are seven different meal strategies based on when during the day you typically work out, the demands of the rest of your day, and your preferences. For example, if you are an "early bird" trainer she provides sample eating plans and ideas for fasted training before breakfast, semi-fasted training before breakfast, and for late morning training after breakfast. Similarly, sample days are provided for the "nooner" and the "pm trainer."
The organization of the recipes within The Performance Paleo Cookbook flows directly from these meal strategies and the fueling needs of an athlete. Chapter 1 and 2 provide "pre-workout snacks" and "post-workout refuel" recipes. Chapter 3 offers "protein-packed meals to build strength," chapter 4 is full of "carb-dense sides to maximize recovery," and chapter 5 provides "nutrient-boosting veggie sides." Finally, in recognition of the place that simply yummy foods have in all healthy diets, the book ends with a chapter of "tasty and nutritious treats" and one of "scrumptious sauces and seasonings."
Of course, the real measure of the worth of any cookbook is whether or not the recipes are tasty and easy to follow. On both counts, this one is a winner! Each category includes mouth watering recipes accompanied by a full color photograph that are accessible, fun, and anything but boring. Some of my favorites…
Breakfast Sausage Scotch Eggs (a "pre-workout snack" on p. 31)
Salmon Cakes With Capers and Dill (a "post-workout refuel" on p. 61)
Honey Garlic Lemon Chicken Wings (a "protein-packed meal" on p. 86)
Caramelized Brussels Sprouts with Sun-Dried Tomatoes and Pine Nuts (a "nutrient-boosting veggie side" on p. 162)
But what if you aren't an athlete?
I had this question too, because although I have been athletic in the past and hope to return to at least "weekend warrior" status again in the future, my recent health challenges have kept me on the sidelines. I wondered if a book that was specifically written for the needs of an athlete would have anything at all to offer me, a person who is dealing with a chronic illness and slowly healing and recovering from a crisis.
I only had to spend a few minutes paging through this book to realize that in fact the nutritional needs of an athlete and the needs of a person recovering from serious illness are virtually the same. How so?
We both need the food to be easy. Time and energy are in limited supply.
We both need protein packed meals. Protein is the building block for the body – both for athletes and people recovering from illness.
We both need to prioritize nutrient density to insure we get the full slate of vitamins, minerals, amino acids, and other micro nutrients the body needs to perform and heal.
We both benefit from avoiding pro-inflammatory foods.
For me in particular, I appreciated the chapter on carbohydrate-dense side dishes. Many standard Paleo cookbooks veer heavily in the direction of low-carb, which is fine if your goals are primarily to lose weight and/or regulate blood sugar. But athletes need them to replenish energy stores after a workout, and I need them to replenish the energy stores that have been depleted by illness. You'll find a wide range of delicious and easy recipes featuring sweet potatoes, squash, plantains, yuca, and even lotus root – which is a new one for me!
Speaking of carb-dense side dishes, let's get on to that recipe I promised you! Hasselback potatoes originated in Sweden, and they make basic roasted spuds special. When roasted in the oven, the fan-shaped cuts get crispy and delicious. Stephanie's recipe tops these sweet potatoes with a compound butter of ghee and fresh herbs for a sophisticated finish. Note: If you prefer white potatoes and aren't sensitive to nightshades, this recipe can easily be made with medium or large russet potatoes.
Notes for healing diets:
Hasselback Sweet Potatoes Recipe
Print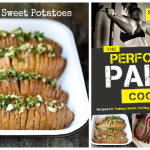 Hasselback Sweet Potatoes from The Performance Paleo Cookbook
---
Author:

Total Time:

1 hour 10 mins

Yield:

2

-4

1

x
Description
Deliciously roasted sweet potatoes with a dollop of healthy fat.
---
1

lb (454 g) white sweet potatoes

1 tbsp

(

15

mL) melted ghee

1 tsp

sea salt

2 tbsp

(

30 g

) ghee

1

small clove garlic, finely chopped

1 tsp

fresh chopped rosemary, about

1

sprig

1 tsp

fresh thyme, about

5

sprigs
---
Instructions
Preheat the oven to 400°F/204°C and line a baking sheet with foil or parchment paper.
Scrub the skin of the sweet potatoes thoroughly. Use a very sharp knife to make several vertical cuts from the top of the sweet potatoes most of the way through, stopping about ¼ inch/6 millimeters from the bottom.
Place the sweet potatoes on the baking sheet. Brush with the melted ghee and sprinkle the sea salt on top.
Roast for 60 to 75 minutes, until the sweet potatoes are soft.
Meanwhile, make the compound ghee. In a small bowl, combine the ghee, garlic, rosemary and thyme. Stir well with a spoon until it forms a soft mixture.
Top the hot roasted sweet potatoes with the compound ghee.
Prep Time:

10 mins

Cook Time:

60 mins

Category:

vegetable
Nutrition
Serving Size:

1 potato

Fat:

10 grams

Carbohydrates:

21 grams

Fiber:

2 grams

Protein:

2 grams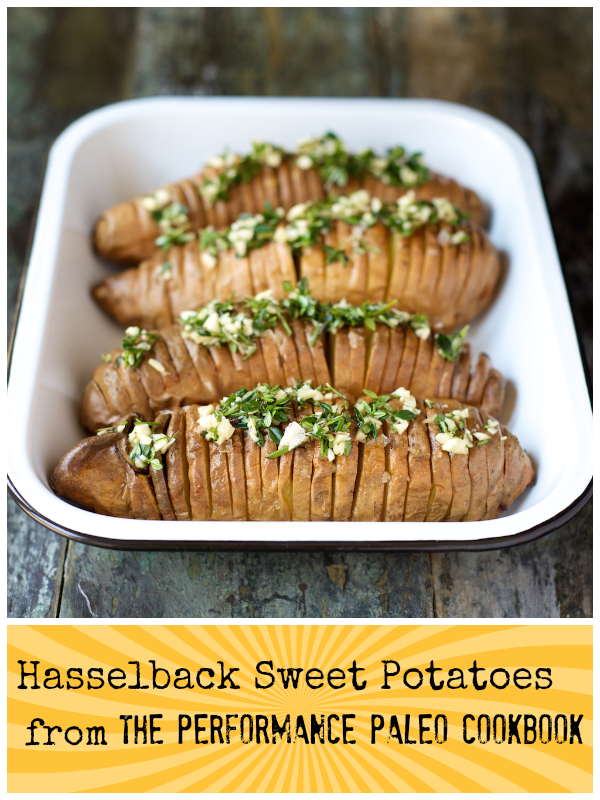 Please note: I received a free advance copy of this book from the publisher in exchange for an honest review.